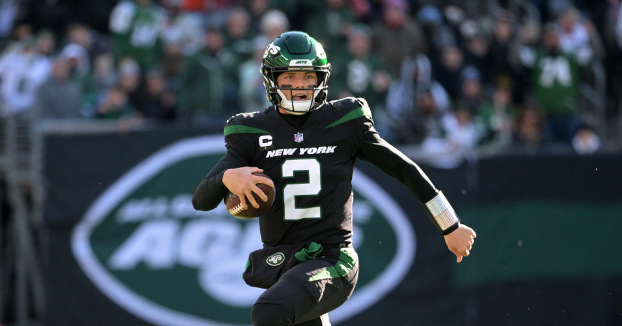 Content available exclusively for subscribers
Please subscribe now to unlock this article!
Breaking down Jets Icon's comments.
A few weeks ago Joe Namath was on the Jets flagship radio station, 98.7 FM, and was asked about Zach Wilson.
"I think there's a side of school that's still out," Namath said. "We've got to see more."
There is no arguing that point.
Some might say, "Well he was a rookie, what did you expect?
However, in 2020, rookies Justin Herbert (Los Angeles Chargers) and Joe Burrow (Cincinnati Bengals) had better rookie seasons. Yes, Burrow got hurt, but up to that point, he clearly was playing on a higher level than what we saw from Wilson this year. And then of course this season, Wilson's fellow rookie, Mac Jones (New England Patriots), performed on a higher level than Wilson.
Now it should be pointed out that Herbert, Burrow and Jones all came out after their senior season. Wilson was a junior. Bill Parcells was a big believer in drafting senior quarterbacks.
But if you are going to pick a junior, it might be best to sit him for a year, give him an NFL red-shirt year, in what would have been their senior year, like the San Francisco 49ers did with Trey Lance this past season.
Wilson, in 13 starts, finished his rookie season with 9 touchdowns, 11 interceptions, a 69.7 QB rating and completed 55.6 percent of his passes. That last stat – the 55.6 completion percentage – is a big problem and contributed to the other stats, because that number means almost every other pass was hitting the ground, and it's hard to sustain drives that way.
Let's continue with Namath's comments:
"But the other thing is – I know it takes a group," Namath said. "Zach couldn't perform at his best for a couple of reasons. He's not there yet, certainly, and it was new for him and his team is not that solid. He needs more help around him. With help around him, it's amazing how much better a guy can play."
This is true to a degree. Certainly the supporting cast in the last game, in Buffalo, was a problem with a bunch of players out, on the offensive line and quite a few skill position players. So that game, Namath's statement certainly rings true.
But before his mid-season knee injury in New England in Week 7, aside from the Tennessee game which was okay, his play wasn't great, with most of his cast intact. And then the following game after the injury, with much of the same cast Wilson was playing with in the first seven weeks, Mike White lit up Super Bowl participant Cincinnati throwing for 405 yards and three touchdowns. The "help" for the QB looked fine in that game.
Yes, the Jets need to add a few more pieces on offense, but most of Wilson's issues as a rookie were not supporting cast related, it was more a rookie learning on the job and having issues seeing the field and with accuracy.
One more thing from Namath:
"I like him, but I don't know how long he's going to last," Namath said. "You'd like for a guy to be 6-foot-6 or 6-foot-7 back there in the pocket. School's still out on how Zach's going to do."
I don't think the height is concern. There are plenty of 6-2 quarterbacks – Aaron Rogers and Matt Stafford are 6-2. You can function fine at 6-2. Wilson's issue is his slender build, not his height. He doesn't have the body armor of other quarterbacks with thicker frames. That should be the source of concern, not the height.
February 17, 2022
Premium will return by 9:30 pm on Friday.