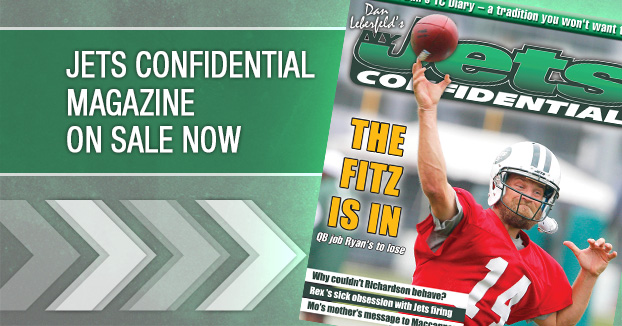 Of course people are going to connect what happened today, and include it in a dumpster fire narrative. Is that accurate? Let's take a look.
I got this e-mail from the NFL today . . .h
STATEMENT BY AN NFL SPOKESPERSON ON ODAY ABOUSHI
Oday Aboushi of the New York Jets has been suspended without pay for the first game of the 2015 regular season for violating the NFL Policy and Program for Substances of Abuse.
Aboushi will be eligible to return to the Jets' active roster on Monday, September 14 following the team's September 13 game against the Cleveland Browns.
Aboushi is eligible to participate in all preseason practices and games.
STATEMENT FROM NEW YORK JETS HEAD COACH BOWLES
"News like this is never welcome. We will support Oday as we continue with our preparations for the upcoming season."
STATEMENT FROM ODAY ABOUSHI
"I apologize for my actions and understand the repercussions. This is something I've learned from and I'm focused on moving forward."
This is unfortunate for Aboushi, but this is all it means – that a backup offensive lineman, on the roster bubble, was suspended for one game for possession of a small amount of marijuana.
That is it. It's just a blip on the radar screen. It's not a big deal for the Jets. For Aboushi – yes, for the Jets – no.
Now, of course, you are going to hear the train-wreck narrative, connecting this to the Sheldon Richardson suspension/arrest and the IK Enemkpali/Geno fight.
That's the way it works around.
But that is ridiculous.
That is myopic view of the world.
Most teams have bad things happen to them – injuries, suspensions, fights.
This team is fine.
Now I don't have any idea how they are going to do this season, but I don't feel there is a culture problem, or rampant dysfunction.
In the Geno/Enemkpali fight, they Jets lost an inconsistent quarterback who was no lock to win the starting job and a backup outside linebacker.
In Aboushi, they lost a player for one game, who might be a long-shot to even make it to that first game. He's was running third-team the first couple of weeks of camp. He did get some second-string reps on this Tuesday and Wednesday. I think backup players like Brian Winters, Brent Qvale, Ben Ijalana and backup swing candidates – Wesley Johnson or Dalton Freeman – all seem to be ahead of him. Johnson and Freeman can play center. Aboushi can't. The backup swing guy needs to be able to play both guard spots and center.
To me, the only bad news for the Jets, that will impact the season somewhat, is the suspension of Richardson, a rising star, but it's possible Leonard Williams will soften that blow.
Is having a string of events like this ideal? Of course not, but reading the tea leaves, I don't see this as a dumpster fire.
Not at all.
The culture isn't diseased.
People can try to sell you that, but it's not accurate.
The mood/morale is just fine
August 20, 2015
Premium will return by 11:59 pm on Friday.
---