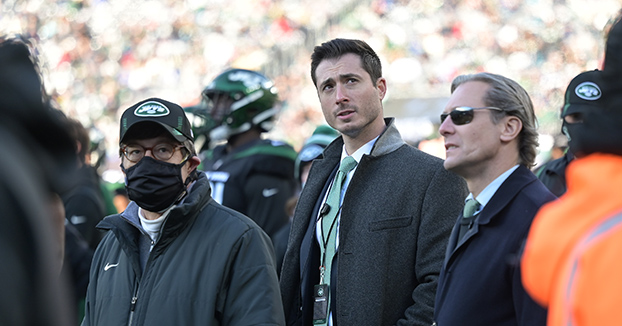 Content available exclusively for subscribers
Please subscribe now to unlock this article!
A heaping helping of Monday notes . . .
Mekhi Becton is likely out for the season. The Jets thought maybe he'd be able to come back at some point this season from a Week One knee injury, but it doesn't look like it's going to happen. So what happened?
"Like I said, he is a very big man," said Robert Saleh. "Everyone heals a little bit differently. I know he had a little bit of a cleanup in there and it didn't go the way everyone was expecting, but it didn't mean that there were setbacks or anything. He's still working, he's still putting in the effort."
Saleh added: "I know he'll be back for 2022. He'll be ready to roll. It's not that there was a setback, it's not that anyone has been lazy, it's none of that, it's just a matter of everyone's body heals differently."
He's a very big man, and for the sake of his surgical knee and the rest of his bones, joints and ligaments, he should probably drop about 30 pounds and play in the 340 range.
And the Jets are now playing a zone-blocking scheme that generally calls for smaller, quicker lineman, You don't see 6-7, 370-pound offensive tackles in a zone-blocking scheme. Becton was originally picked to play in Adam Gase's scheme.
Becton should probably lose weight to take stress off his body, but losing weight is hard, as most of us know . . .
With center Connor McGovern (knee) out for the year, Dan Feeney will be the center, so they should be okay. He started at center for the Los Angeles Chargers. And actually, one of the Jets' best running plays in their win over Jacksonville, was after the McGovern injury and with Feeney at center. Late in the game, running back Michael Carter had a 38-yard run off right guard. Feeney had an excellent block on linebacker Dakota Allen, right guard Greg Van Roten and right tackle Morgan Moses double-teamed defensive tackle Malcolm Brown, and tight end Tyler Kroft locked up defensive end Jihad Ward and Carter was off to the races.
While Feeney doesn't have the mass that McGovern has, he's a solid center, and the Jets should be fine with him there the last two games, and they could get back both starting guards this week, Laurent Durvernay-Tardif and Alijah Vera-Tucker from the COVID-19 list.
Jets offensive line coaches John Benton, and his assistant Jake Moreland, has done a terrific job this year coaching the offensive line, which has gotten better as the year has progressed, and even had a strong game yesterday with two, and then three starters out . . .
As far as COVID-19, the Jets added cornerback Bryce Hall and tight end Tyler Kroft to the list today.
The Hall addition is a tough one if he can't play this week, with Tom Brady coming to town. Hall is their best cornerback by far. Kroft is a tough loss because Trevon Wesco went down with a knee injury against Jacksonville, and Ryan Griffin is on IR.
So they are down to Kenny Yaboah and Dan Brown at tight end, and Yaboah was put in COVID-19 protocol last week, so there is a chance he clears this week.
But they do have another guy who can play tight end on the roster in fullback Nick Bawden, who is kind of a hybrid player, and a terrific blocker.
Brown is an underrated tight end, who has been pigeon-holed as just a special-teamer, but has good hands, and 4.6 speed to get down the field.
But the bottom line with the NFL's COVID-19 spike the last couple of weeks is that it's not that surprising. While most of the players and coaches in the league are vaccinated, many medical experts, including the NFL's own chief doctor, Allen Sills, say that the vaccine doesn't prevent you from getting COVID-19, but in most cases, prevents the bad symptoms that lead to hospitalization. So if you are going to test people quite a bit, as the NFL does, even people without symptoms, a spike of the numbers like this in the winter, and with the new variant, perhaps isn't a surprise.
Busy time for the Jets' doctors (some pictured above).
December 27, 2021
Premium will return by 9:30 pm on Wednesday.