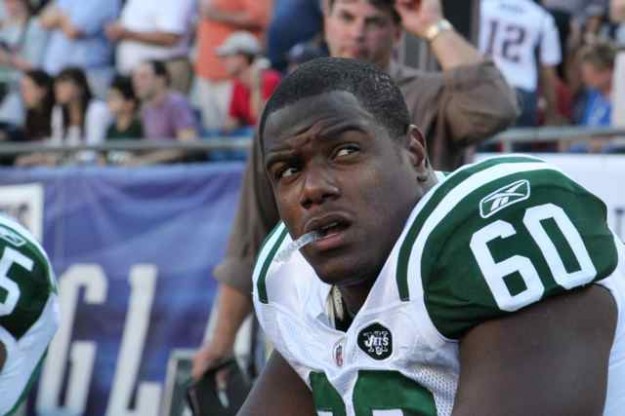 Let's get rolling with this Friday Website Whispers; nuggets from Jets Camp in Florham Park, New Jersey . . .
He has 53 catches on the season.
"Davis is very athletic and they like to throw to him a lot on crossing routes off bootleg action," said a source close to the Redskins.
One factor that will help the Jets deal with Davis is he's in the 6-3 area; he's not 6-6 like New England's Rob Gronkowski, or 6-7 like Buffalo's Scott Chandler.
So the Jets defensive backs and linebackers shouldn't have a big height problem with Davis, like they did, especially against Gronkowski . . .
Rex Grossman was the Redskins starting QB earlier in the season, but then was then benched for three games, before being re-inserted into the starting lineup three weeks ago. The team is 1-2 since he came back, but easily could have beat Dallas, losing in overtime. They beat Seattle and lost to Miami.
So how has he done since his return?
'He's done all right since he's been in – the team responds to Rex, but he also continues to force passes and turn the ball over," the source . . .
The individual drills ended with WR coach Henry Ellard catching a touchdown pass, and the team going wild. At 50, he still has really good speed. At first, I didn't think it was a coach, but a player . . .
I don't mean this to as a shot at Sanchez, but it is no secret he has some accuracy issues.
Today in practice, there was a wide receiver drill where the passes were intentionally thrown behind the receivers, and they had to twist around to grab the ball.
A big project this off-season is going to be improving his accuracy. Having an entire off-season will help him. Sanchez, like so many young players, had his maturation process stymied by last off-season's lockout . . .
Rex Ryan and Brian Schottenheimer claimed this week that Mark Sanchez doesn't telegraph passes by locking on to one receiver.
The Redskins #1 cornerback disagrees.
"A lot of times [Sanchez] comes out and stares a WR down, tries to throw him the ball," DeAngelo Hall said. "He puts it on [them] to make play."
So who is right? Clearly Hall. Ryan and Schottenheimer are protecting their quarterback . . .
Mike Westhoff must be licking his chops.
In the NFL, 23 field goals and extra points have been blocked this year, and the Washington Redskins were responsible for five of them.
Last week, Seattle blocked a field goal and an extra point against Washington. And there was another field goal tipped, but it was still successful . . .
Speaking of tips and blocks, the Jets should be able to get their hands on a few of Rex Grossman's passes. He's listed at 6-1, but I've interviewed him in locker rooms. I think he's shorter than me, and I'm 6-0 . . .
The Jets are taking a train to Washington, and staying in Virginia . . .
Premium content will return on Sunday night. Enjoy the game.
---