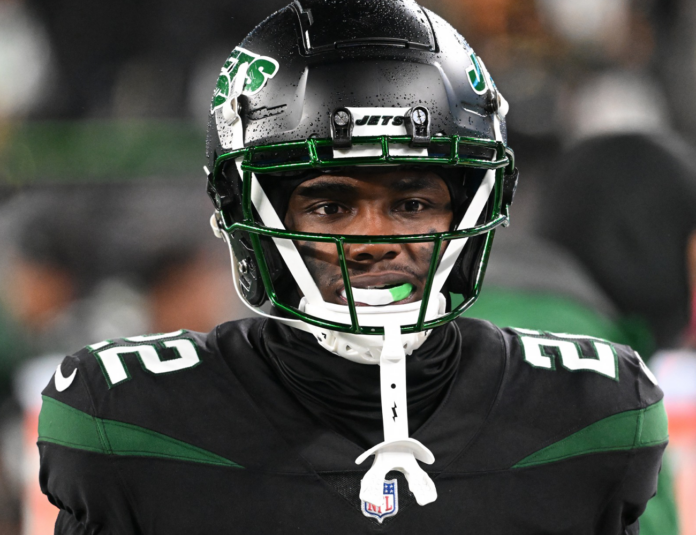 Content available exclusively for subscribers
Please subscribe now to unlock this article!
Aside from one . . .
deep pass to wide receiver Malik Taylor down the left sideline, Zach Wilson was pedestrian on his three series, playing against the Cleveland Browns #2 defense.
The Jets' first series ended, when on third-and-two, Wilson with plenty of time to throw, could not find anybody open, scrambled, slipped short of the first down, and the Jets punted.
On the second series, he had a nice deep pass down the left sideline to a wide-open Taylor for a gain of 57, but then he overthrew a receiver on the next third down and they settled for a field goal. This is the problem with a 55 percent passer – almost every other pass hits the ground, and it's hard to sustain drives that way. The third series ended with Wilson getting a pass tipped at the line, and the Jets kicked a field goal. The Jets got the ball on a short field to start the drive after a pick by linebacker Chazz Surratt (he did a nice job of reading QB Kellen Mond's eyes) . . .
Jets 2023 first-round pick, DE Will McDonald flashed. He had a QB pressure on the Cleveland Browns' second series, hitting Mond as he threw. He also had a QB pressure in the third quarter, and had a really nice run stuff, stopping RB Demetric Felton after just a gain of one in the second quarter . . .
Jets rookie offensive tackle Carter Warren did a really nice job of sealing the edge on the left side, clearing the way for his former Pitt teammate Izzy Abandikanda's 10-yard TD run . . .
A player who helped himself in this game was undrafted free agent linebacker Claudin Cherilus, flashing on defense and special teams. I know it's just one game, but he looks like he could be a force on kick and punt coverage . . .
Early in the game, defensive  endBryce Huff ended a series with a sack of Kellen Mond with an inside move on left tackle James Hudson.
This guy could make some good money next off-season in free agency if he gets enough playing time, and isn't hurt by roster politics like last year.
Not only did he have that sack tonight, but he's had a very good camp . . .
Jets defensive end Michael Clemons played a lot tonight and finished with one assisted tackle.
Sometimes you have to wonder if gaining 30 pounds is going to hurt his mobility. Remember, even at 265 last year, he wasn't really that twitchy, and now at around 290, he looks like he's lumbering a little out there.
There is no doubt he is tough as boot leather, and very powerful, but does he have the mobility at 290 for the kind of defense the Jets play?
We shall see.
It just seemed like he should have made more of an impact tonight playing against backup offensive linemen.
I guess my overarching point here is that when you take a defensive lineman, with so-so speed coming out, and you have him gain about 30 pounds, is it going to hurt his wheels? . . .
In a league that is all about competitive balance, I find it odd that they make two teams play an extra preseason game than the other 30 teams. That doesn't seem fair from a wear-and-tear standpoint.
August 3, 2023
Premium will return by 9:30 pm on Friday.