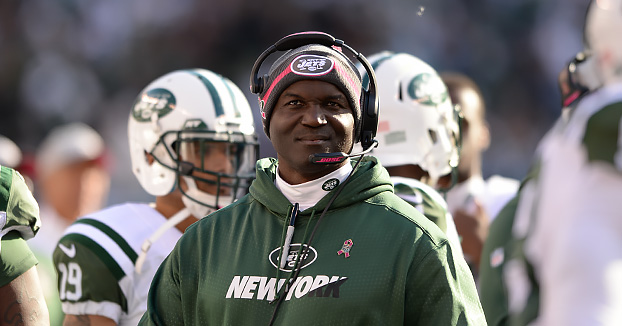 Content available exclusively for subscribers
Please subscribe now to unlock this article!
New Jersey – Today Dan takes a look at a three different personnel related matters regarding the New York Football Jets . . .
If there were questions about Willie Colon and his knee, he answered a lot of them on that 23-yard screen to Chris Ivory in the first quarter.
He got way out in front in the left flat, and took linebacker Keenan Robinson out of the play. It was a great block in space.
And then at the end of that drive, Colon pancaked 320-pound defensive end on the Ivory touchdown run.
There should be no talk about him being replaced by Brian Winters. Colon is the better player now, and on top of that, one of the team leaders . . .
I don't get what Antonio Cromartie is doing sometimes. He continually gives receivers too much cushion. In London, on the Kenny Stills' touchdown in the fourth quarter. Cromartie was like 10 yards off him, and the ball was on the 10. How do you give that much cushion with the ball on the 10?
And this past game, a reserve tight end, Derek Carrior, filling in for Jordan Reed, had a gain of 21 on Cromartie, starting out on the right side and cutting over the middle.
"Just too big of a cushion by Antonio Cromartie," said Moose Johnson. "That is an easy catch-and-throw."
I've asked Todd Bowles about some of these Cromartie plays, and he claims to not remember the play.
Hey, it's a good ploy to avoid having to criticize your own player. Smart play by the coach.
I just wonder when we are talking in December if Cromartie is still the starter, with some of quality young players behind him.
Look, I understand him backing off at times when covering a player with world class speed like Travis Benjamin. Cromartie has been in the league a decade and doesn't run as well as he used to. By why do this against a reserve tight end?
This kind of coverage is inexcusable . . .
Expect the Patriots to test the Jets with wheel routes to the right side, these are plays where the running back swings out of the backfield and heads up the right sideline.
The Eagles had success with this, and this was clearly a big part of the Redskins' plan.
In the first quarter, the Redskins ran two wheel routes to the right side. On one, Alfred Morris was wide open and took it for a nice gain. The second one, Chris Thompson had a step on DeMario Davis, but couldn't come down with the ball when landed on his back (remember he hurt his back on this play and was attended to).
There was a third pass to a running back down the right side, a completion to fullback Darrell Young on Quinton Coples. It wasn't a wheel route, but it was another successful throw to a running back on the right side.
Whether it's Coples on that side, or Davis behind him, teams see a vulnerability there are as far as the Jets covering running backs, and expect Tom Brady to test this, especially with the super-quick Dion Lewis at tailback.
October 20, 2015
Premium will return by 9:30 pm on Wednesday.