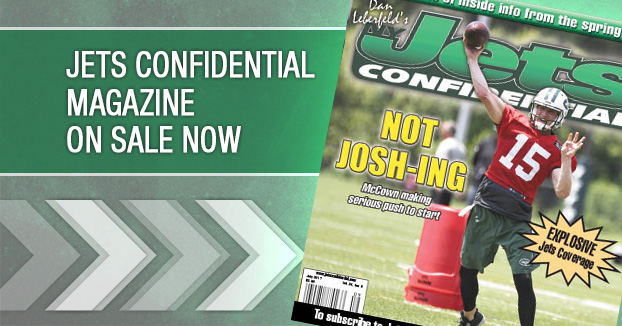 Q)What did you say to Hue Jackson after the game?
McCown: I just let him know that I'm thinking about him, that I loved him and to hang in there.  I know he's fighting a fight.  I believe in him.  You guys know how I feel about him.  It's a hard, mixed emotion day when you are playing against your brothers on the other side, and people like Hue that you respect.  I just wanted him to know I enjoy competing against him and that I loved him.
Q)What are your thoughts on the Jets being 3-2?
McCown: That's number one – it's special to get to 3-2.  It took me three years and two teams, but I got my first win here at FirstEnergy Stadium.  The way we fought was good.  It was not the prettiest at times, we started slow again offensively and I have to do my part to get that fixed.  It was fun to get the win.  To be sitting here at 3-2, we're really proud of that. We have got to keep moving forward.
 
Q)How big was the 97-yard drive in the second half?
McCown: It was huge.  The old saying, "be at your best when the best is needed."  We played well when we needed.  We need to play well all day, but in that moment, we stepped up.  Every guy made a play here and there.  (TE) Eric Tomlinson makes a huge catch, (WR Jeremy) Kerley makes a huge catch on third down.  Those things were big for us.  That drive was huge.  The drive before the half was what helped us get some momentum and get out of the funk we were in.
 
Q)What do you credit the 3-2 start?
McCown: I think it's a credit to the guys in the locker room, the coaches, and really the organization as a whole.  When we came together this spring, the mindset that we worked with, whether it was in the weight room, walk-throughs or OTA's – every aspect, Coach Bowles talked about us being together and being one team. 
It's a unified group in there.  There is power in that and we can do a lot when we are together.  I think that's the key.  When you and the prognosticators make their picks and assumptions about any team, not just us, what you cannot always tell is the chemistry.  We have really good chemistry and this is a special group. 
 
Q)What is needed for the Jets to beat New England next week?
McCown: We will have to be at our best.  They are an excellent football team.  They have been great for a long time.  We will go through our normal work-week, look at the tape on Monday, make our corrections and get ready to go.  You cannot ask for anything else than to be 3-2 and to go against 3-2 New England in a head-to-head matchup.  This is what it's about.  This is why you play the game.  We look forward to playing them.
 
*These are excerpts from Josh McCown's post-game press conference after the Jets' win over Cleveland on Sunday.
 
---