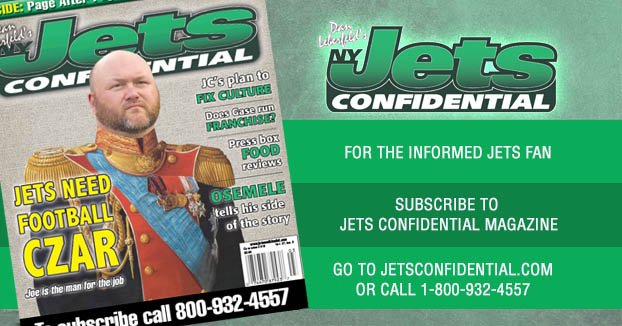 Content available exclusively for subscribers
Please subscribe now to unlock this article!
Gimmick plays are
fine once in a while, and they helped the Jets at times today, but that isn't a sustainable winning offensive formula. It's a QB-driven league, you need consistent conventional QB play from the pocket to have sustainable success.
Magic tricks will only take you so far . . .
Remember what Robert Saleh said before the first Jets-Dolphins game about why he started Joe Flacco over Mike White.
"One of the reasons we went out and got Joe was for the experience part of it," Saleh said. "Not only for the playing ability or for the room, but also for situations just like this. Miami has a dynamic coverage system as it pertains to [Cover] 0 and all the different coverages they run and Joe has kind of been there, done that. Just kind of a steadying influence that we thought would put us in the best position to win."
Flacco was pedestrian in that first Miami game, including getting tagged on a blindside blitz he didn't recognize leading to a fumble. But that notwithstanding, fast forward to this Jets' loss, where Zach Wilson had major issues with the Dolphins' Cover 0 approach. If White wasn't qualified to start against Miami's Cover 0, and he's been in the league since 2018, was Wilson? Especially on the road, which makes it every tougher with the crowd noise.
The bottom line is this: Wilson should have sat this year like Patrick Mahomes did as a rookie (except for the last game of the season), and like Trey Lance is in San Francisco this year. Wilson came out after his junior year, after playing the likes of North Alabama, Troy and Louisiana Tech, and wasn't instant coffee, like Mac Jones, a senior prospect who played in the SEC. Justin Herbert was a senior and played in the Pac-12. 
So on some level, Wilson is a victim here. He didn't put himself out there.
He should have sat. The NFL isn't a developmental league . . .
The Jets' defense needs a major overhaul in the off-season – strategically and personnel-wise. 
Unfortunately, not much can be done now, so you will continue to see some of the same problems the rest of the way.
They need upgrades at almost every position.
They have a defensive tackle who consistently gets run at, and struggles to get off blocks and isn't twitchy, but they continue to roll with him. He had a rough game today and a lot of big runs were run at him. He's on the ground too much. I'm tired of criticizing him because he's a great guy, but for goodness sake, how long are you going to put him out there when the same things keep happening?
The Dolphins, one of the NFL's worst rushing attacks, amassed 186 yards on the ground today. The issues setting the edge continue. If you can't set the edge against the run in the NFL, it's hard to win.
Tua helped the Jets' pass defense look a little better today because of his arm issues. His first pick sailed right into the arms of a struggling Jets defensive back. It was a gift. It wasn't a diagnostic play. As for the pick-six, in the NFL you have to drive the deep out, and if you can't drive the deep out, don't throw it. You can't throw soft deep outs in the NFL.
This pass defense still has major issues regardless of the two picks.
The last two weeks of the season the Jets play Tom Brady and Josh Allen. Buckle up.
The bottom line is Joe Douglas and Saleh need to roll their sleeves up after the season, and fix this broken defense, sans rose-colored glasses. In other words, don't throw a blanket over everyone and say they will improve in time, which seems to be a mindset of some. No, that isn't true with some guys. That isn't a one-size-fits-all theory. The self-scouting after the season has to involve blunt force trauma and feelings are going to have to be hurt.
This defense essentially needs to be blown up, aside from a select few.
December 19, 2021
Premium will return by 9:30 pm on Monday.