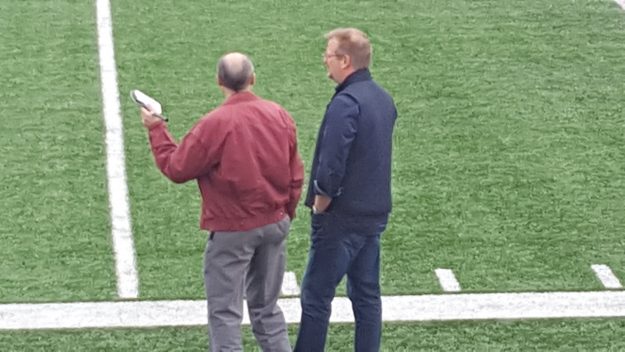 Ohio State safety Malik Hooker is a possibility for the Jets at six. Here are some of his thoughts on his injuries and interceptions . . .
*Malik Hooker – Ohio State Safety: I had surgery Jan. 16, I'm recovering a lot faster than they thought. I'm looking forward to coming back around rookie camp.
Q)How did injury affect you on the field for OSU last season?
Hooker: The injury happened Nov. 26 in the game against the team up north. When that happened, I didn't really notice it until after the game. After the game, I couldn't really walk, I was limping. In practice that week, I wasn't able to run as well and I just kept playing through it. I played the Clemson game with the injury as well.
Q)Did you consider not playing?
Hooker: No, that was never a thought.
Q)Why?
Hooker: Just because I put too much work in with those guys, and it would've been like I was letting them down, you know. We went through the offseason, the grind, I feel like everything that I worked for in the offseason and that we worked for as a team, that would've been thrown away if I didn't go out there and compete with those guys.
Q)Did it hurt in Clemson game?
Hooker: It did, but I took a lot of Ibuprofen. I was just going out there, trying to compete and getting the win for the team.
Q)How many Ibuprofen did it take to get INT against Clemson?
Hooker: About six. It took about six. I went out there early before the game and started, and I had the PT look at it before I went out there and started working out on the field. I just got it real loose, got it as loose as I can and tried to mentally block that out of my mind.
Q)You didn't consider sitting out bowl game because of injury?
Hooker: Before even looking into my future, there's just so much that you put into a program like that. So for me to automatically say I'm not playing because I'm a top 10 pick or whatever the scenario may be, I feel like it's not fair to Ohio State and the guys I worked with because I was there in the offseason working hard with them, I was there in the rough part of the program, so I feel like it was what I had to do. I feel like I owed that to those guys and I definitely don't like sitting out, especially at a time like that when you're working for a national championship, big game against one of the top competitive teams in college football. I feel like it was a no-brainer that I was playing.
Q)Sports hernia and labrum?
Hooker: Yes. I had a torn labrum in my left hip and I had a sports hernia on both sides.
Q)What was key to getting so many INTs?
Hooker: Just having the mindset that any ball that's in the air, it's my ball. I feel like I'm a playmaker. Any time I had a chance to make a play or change momentum of a game, I took it upon myself to do so.
*Press Conference
---