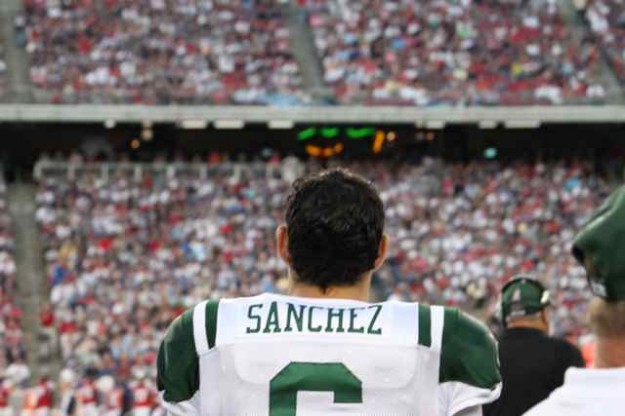 Let's start our breakdown of Mark Sanchez's performance in the Jets win over the Buffalo Bills. Let's dive in with Part I . . .
The Jets first drive was a three-and-out.
After a John Connor run on first down for four yards, Sanchez wrapped up the possession with two incompletions.
The first pass, a quick slant to Dustin Keller on the left side, was broken up. Two issues here – the pass might have been thrown to hard considering how short the route was. It was also a little behind Keller. Then on the next, play, Sanchez eye-balled Keller the entire play down the deep right side, and rookie safety Da'Norris Searcy broke it up.
We've been over this many times – he is too often married to his first read.
The second drive started with three running plays, including a 16-yard run by Shonn Greene.
Then when a pass was called, Sanchez nearly threw a pick to CB Drayton Florence on a pass over the deep middle to Plaxico Burress. He looked that way the entire time, and not only was Florence in tight coverage, there was a safety in the area.
The drive ended two plays later, when Sanchez threw an out to Keller on the short left side, and the pass was broken up by S Bryan Scott, who was in tight coverage. There was probably a better option. This really isn't a mismatch. Keller isn't Rob Gronkowski or Jimmy Graham. He's not 6-6, 260 where safeties can't matchup. Scott is a big safety – 6-1, 219. Keller is 6-2, 245. There is no reason to say – "Oh my goodness, a safety is on Keller, this is a big mismatch." Keller on a linebacker who can't run with him, that is another story.
After a long Bills touchdown drive, the Jets got the ball back late in the first quarter, and on a drive that went into the second quarter, they marched down the field.
There was a lot of quality work on the ground on this possession, including a 23-yard reverse to Santonio Holmes.
This drive wrapped up with Sanchez running a bootleg to the left side, and hitting Keller for a touchdown on the left side of the end zone.
On this play, there was one of those Keller matchups that the Jets can exploit – inside linebacker Kelvin Sheppard, more of a run-stuffer, covering Keller, and Dustin left him in the dust.
The Jets next drive was was a three-and-out, and then the next possession was a two-and-out, when Sanchez threw a pick to Florence on a forced, telegraphed pass to Holmes over the deep middle.
Clearly Sanchez and Brian Schottenheimer felt the Bills were going to look for the run because they had "Big" personnel on the field. Vlad Ducasse was in as a tight end, and was lined up with Matt Mulligan on the left side, both to the left of D'Brickashaw Ferguson. On top of that, they were on their own four.  But you know what, the opponent has to be clueless to not think pass is a strong possibility on this play. Teams often go "Big" and then try to fool the defense by throwing. The Bills weren't fooled.
This pass was thrown into double coverage, with a safety and Florence in the area, and Florence picked it off. The Bills scored three play later.
We will have Part II of Sanchez by 9 PM this evening.
---