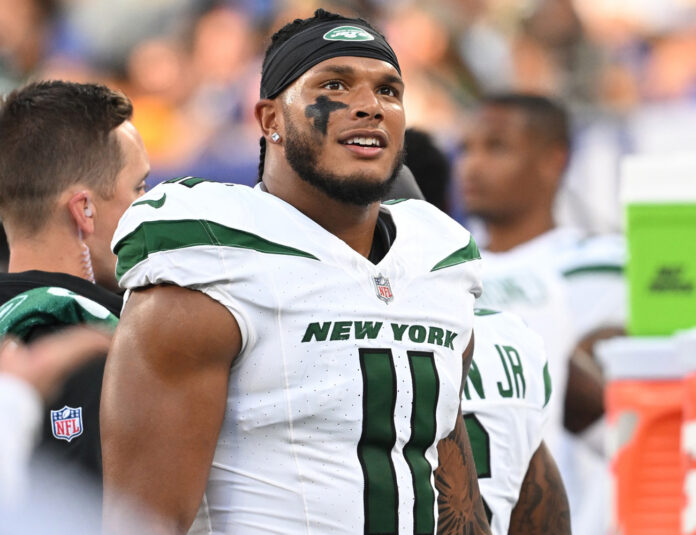 Content available exclusively for subscribers
Please subscribe now to unlock this article!
He was asked after the game . . .
Q: On if it was planned for the starting defense to play only a few snaps…
Robert Saleh: No. I just saw the first couple of series and they're ready.
Are they ready?
Hard to tell, because they were playing against the Giants' backup offense.
So it was the Jets' starting defense against the Giants' backup offense.
Jets defensive end Jermaine Johnson beat Giants backup left tackle Matt Peart for a sack. So did Jets' situational pass rusher Bryce Huff.
So I don't have any idea if they are ready after facing all Giants backups, but Coach Saleh did the right thing by taking them out.
It doesn't make a ton of sense to keep starters in for a long time in a third preseason game.
But who knows if they are ready.
Who knows what to expect from the Jets at the safety position? I certainly don't.
Who knows what to expect from their linebacker pass coverage, which was an issue last year. Let's not forget who they face in Week 1, the Buffalo Bills, with tight ends Dawson Knox and Dalton Kincaid.
So with questions about the safety position and linebacker coverage, the Knox/Kincaid combination in Week One will be a great litmus test for where the Jets stand in those areas . . .
Jets coach Robert Saleh had high praise for Jets #2 QB Zach Wilson after the Jets-Giants preseason game.
"I thought Zach was awesome," Saleh said. "I'm proud of that kid, man. He did such a nice job all camp. To be asked what he was asked to do with regards to taking a step back and learning all over again, and today I thought he commanded the huddle. I thought he dropped a dime on that deep ball to Mecole (Hardman). I thought he was really, really good."
The pass to Hardman was incomplete, but it was a good throw.
Some would agree with Saleh's assessment. Some might feel like "awesome" is a strong word for a QB who played in four preseason games, and threw no touchdown passes, or TD drives. He led some field goal drives, but no touchdown drives.
Jets third-string quarterback, Tim Boyle, went 9-11 for 107 yards, threw two touchdown passes, and a 146.8 quarterback rating against the Giants.
Wilson, went 11-18, for 107 yards, no touchdowns and a 77.8 quarterback rating.
They both faced backups.
Those who don't live in the confirmation bias world, or aren't media stenographers, you decide for yourself what you think of the Jets backup quarterback situation . . .
The Jets landed two steals in undrafted free agent wide receivers Jason Brownlee (Southern Mississippi) and Xavier Gipson (Stephen F. Austin).
These guys clearly should not only have been drafted, but should have been drafted in the middle rounds.
They both looked good in camp, and both shined against the Giants in the final season game, especially Gipson, who had 7 catches for 79 yards.
Brownlee is a big, physical receiver who is good at climbing the latter and high-pointing the ball over defensive backs, and Gipson, is dynamic after the catch, with special skills running in the open field.
Don't judge Gipson by his school. He was an SMU recruit coming out of high school, but for some reason ended up at a 1-AA school, but it wasn't due to talent.
August 28, 2023
Premium will return by 9:30 pm on Tuesday.