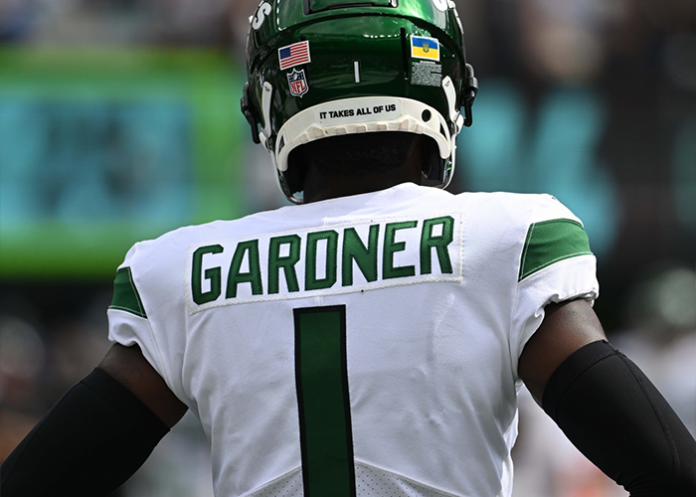 Content available exclusively for subscribers
Please subscribe now to unlock this article!
One of the interesting dynamics
when watching a training camp practice is that for every highlight play on one side of the problem, there might be an issue on the other side of the ball.
For instance, with all the catches by the tight ends, where is the linebacker and safety coverage?
Not to be a broken record, but I've written about this over and over again. The linebacker and safety coverage of tight ends must improve.
When linebacker Chazz Surratt had that pick in Canton, it really stood out, not just because it was a really nice play by the former UNC standout, but because how often have we seen linebacker coverage plays like that the last couple of years?
This needs to change . . .
Speaking of a highlight on one side against a rough play for the other side of the ball, Mekhi Becton overset to the outside at left tackle, and Bryce Huff beat him with an inside move to the QB. Huff has become a very crafty pass rusher. He took advantage of Becton leaning to the outside by beating him inside . . .
Jets veteran nose tackle Al Woods doesn't get a ton of reps in camp as they try to preserve the 36-year-old for the regular season, but when he did get a rare rep, he was head-up on center Joe Tippmann. I wanted to see how the rookie measured up against the massive, powerful nose tackle. Tippmann definitely held his own, locking up Woods. Now, I can't tell you if Woods, who knows what he needs to do to get ready for the regular season, was going full throttle. Only he knows that, but it certainly looked like Tippmann, who lives in the weight room, stood his ground . . .
Aaron Rodgers threw a deep pass don't the sideline to Mecole Hardman with Sauce Gardner in tight coverage, and the pass was incomplete? Didn't love this decision, because the 5-9 Hardman vs, the 6-3 Gardner, isn't a great matchup for the offense.
But right after that, Hardman had journeyman CB Jimmy Moreland on him, and ran a crossing route, beating the CB soundly. That is more like it. Rodgers likes throwing to him on short quick routes where the speedster can run after the catch.
Hardman is going be a nice weapon for the Jets, a Swiss army knife, who the team can use on slants, bubble screens and jet sweeps . . .
Quinnen Williams gave Laken Tomlinson fits on Sunday, getting in Rodgers' face twice after beating the veteran guard. On one of these plays, with Williams bearing down on Rodgers, the veteran QB hit Corey Davis on a deep crossing route with Jordan Whitehead in tight coverage. It was a laser with a DT in his face. Granted, Williams isn't allowed to touch the QB in practice, but it still had to be a distraction to Rodgers to have him in his face, but he still made a great throw . . .
Getting back to Surratt. He was on the rehab field on Sunday. He's got talent, but the player has been dinged a lot with the Jets. He now has a hamstring injury. He got hurt last year on the Jets practice squad, and also had something else in the spring. I don't like to criticize players for getting hurt, because they don't want to get hurt, but if this starts happening too much with Surratt, he could end up like Blake Cashman, who the Jets moved on from after too many injuries.
August 7, 2023
Premium will return by 9:30 pm or sooner on Tuesday.