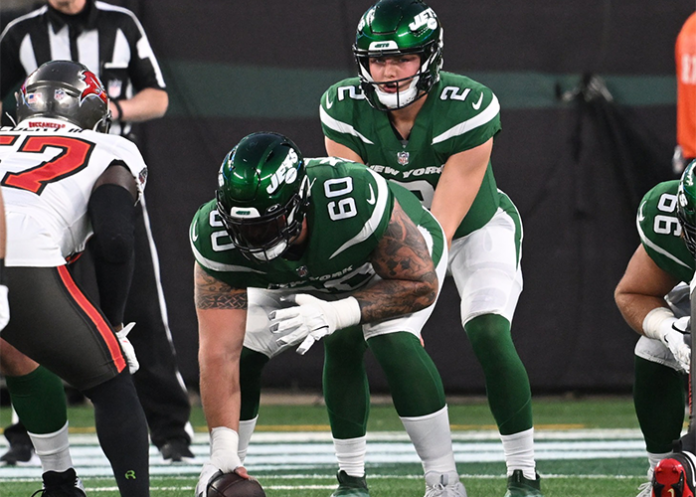 Content available exclusively for subscribers
Please subscribe now to unlock this article!
Road-grader as a run blocker . . .
Joe Tippmann has been impressive this preseason as a run blocker, and is ready to start as a run blocker, but one factor that could make the Jets hesitate to name him the starting center right now is the shotgun snapping, in practice and in preseason games. Some have gone awry. He needs some work in this area.
He's also dealing with a knee injury right now . ..
The Jets have protected themselves with the Dalvin Cook contract.
Cook has been accused by an ex-girlfriend of assaulting her.
"How his contract is structured – if he gets suspended, he doesn't earn any money," said former NFL GM Mile Lombardi on VSIN. "It concerns the Jets because they wrote it in the contract."
The case doesn't go to trial until 2024, so unless the NFL investigates this themselves, and rules before the courts, Cook will likely not get suspended this season . . .
As for Zach Wilson's performance against Tampa Bay in the Jets' third preseason game, once again, there were a few nice plays, like the first two games, not enough consistency.
Wilson is kind of like one of those baseball sluggers, who hits home runs, but also strikes out too much.
The long scramble was nice, but you can't expect that to happen a lot, or stay healthy doing that. He got rocked at the end of the play.
Wilson's first pass of the game was a simple quick slant to Allen Lazard that was behind him and incomplete. You can't miss layups like this.
On the second series, he was nearly picked by backup linebacker K.J. Britt.
On his last series, he threw incomplete to Bam Knight and then had a pass tipped at the line. This was a three-and-out.
His best two plays were back-to-back on a second-quarter drive, a quick slant to WR Jason Brownlee that went for 26-yards, and then the aforementioned scramble that went for 35 yards.
Wilson led the Jets to six points in the half, playing against Tampa Bay's backups. He deserves a lot of credit for the field goal set up by his scramble and the Brownlee catch. The other field goal came after taking over on a short field.
So for the third preseason game in a row, he made a few nice plays, but left you wanting more.
What is helping him deflect criticism for these nondescript performances is most of the attention is on Aaron Rodgers, and not much on his backup . . .
Defensive tackle Quinton Jefferson had another good game against the run. He is really going to help a Jets run defense that struggled during their six-game losing streak to end the season. He's a terrific run defender with good size and power . . .
Dolphins quarterback Mike White entered the concussion protocol during Saturday night's Miami win over Houston.
While White is very underrated QB, the one problem he has is staying healthy, and part of that could be due to his slender build. It's not his fault. It's how he's built, but to use a scouting term, he doesn't have a lot of "body armor."
August 21, 2023
Premium will return by 9:30 pm on Tuesday.