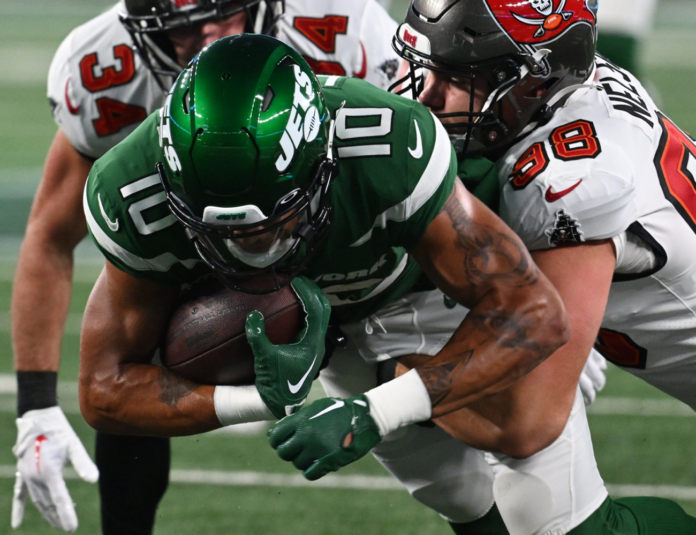 Content available exclusively for subscribers
Please subscribe now to unlock this article!
One thing that makes Aaron Rodgers such a
great QB is that the throws with amazing anticipation. That is what you have to do if you are going to be an elite QB in the NFL. The windows are generally so small, you need to throw to guys as they hit their breaks. A perfect example of this was when Rodgers hit Allen Lazard on a crossing route with Sauce Gardner in coverage.
Rodgers consistently makes quick decisions and throws with anticipation. That's what you gotta do in the NFL to be a high-level QB. You can't wait for receivers to flash wide-open all the time. It's not going to happen . . .
Before camp, Robert Saleh talked about there being open competitions at center and both offensive tackle positions.
At center, the competition is between incumbent Connor McGovern, rookie Joe Tippman and journeyman Wes Schweitzer, signed as a free agent this past off-season.
So, in the first week of camp, McGovern was the starting center. Then, today, Schweitzer got his chance to show his wares as a starter.
However, at offensive tackle, it was still the same two guys who started the first week, Billy Turner and Max Mitchell, who were starting today.
Some might have thought perhaps that when they started to rotate in a second competitor at center, they would also do the same at offensive tackle, with perhaps Mekhi Becton getting a shot to show his wares with the starting lineup at either left or right tackle. But it didn't happen.
By the way, Becton, playing with the second team at left tackle, had a terrific block, pulling to the left flat and taking out linebacker Hamsah Nasrildeen, on a nice run by Izzy Abanikanda off left tackle.
Don't know what is going on behind the scenes, but it should be pointed out that Aaron Rodgers loves Billy Turner, a former teammate in Green Bay. He's not just a good player, but an erudite individual, who Rodgers loves chopping it up with. Not saying this has anything to with the decision, but we all know Rodgers has tremendous power in that building right now . . .
Not only does Jason Brownlee have good size and athleticism, but excellent hands. The dude catches almost everything thrown to him.
Joe Douglas and his crew continue to do an excellent job with their undrafted free agent classes . . .
Speaking of undrafted free agent wide receivers, Monday's practice ended with Chris Streveler throwing a deep pass into the right corner of the end zone into a crowd, and Jerome Kapp came down with it.
Jets have a lot of good undrafted rookie free agent receivers with Brownlee, Kapp, Xavier Gipson and T.J. Luther . . .
Blitz pickup is important for every QB, but especially for elite QBs. You don't want them getting lit up by a blitzing linebacker or safety.
Jets linebacker Quincy Williams blitzed up the middle, and RB Michael Carter struggled a little with the blitz pickup, and Rodgers had to throw the ball away.
Granted, you can't touch the QB in practice, so Rodgers was in danger here, but it makes you think about how important running back blocking is when you have a Mount Rushmore QB.
But then again, you have to be pretty stupid as a defense to blitz Rodgers a lot. Top-shelf QBs like this will often make you pay for doing that . . .
Zach Wilson had an uneven practice on Sunday.
First of all, he needs to chill out with all the scrambling in practice.
These are wasted pass game reps for receivers, defensive backs, and quite honestly, him.
Zach Wilson needs to learn to trust his eyes more and speed up the internal clock in his head.
Late in the practice, he sailed a deep in-cut on the left side over the head of a wide-open Alex Erickson.
This practice was open to the media and there was a huge crowd, and after some rough throws, there were some catcalls from the stands directed at the QB.
Was Wilson pressing because of the huge crowd in attendance? Remember, most practices are not open to the media.
July 31, 2023
Premium will return by 9:30 pm or sooner on Tuesday.