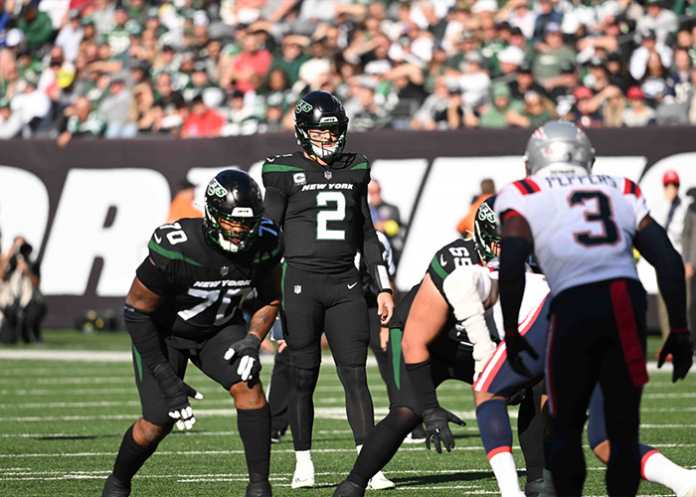 Content available exclusively for subscribers
Please subscribe now to unlock this article!
There is no doubt, Zach Wilson did some good things in the Jets' 27-0 win over Carolina.
The four passes of note in the first half:
Wilson threw a screen pass to Michael Carter on the left side that went for 25 yards, a bootleg right to Jeremy Ruckert that went for 15 yards, a 17-yard screen left to Izzy Abandikanda, and a two-yard bootleg left to Kenny Yeboah for a touchown.
Not to take anything away from his performance that helped the Jets have a 13-0 lead at halftime, but we need to keep things in a little context.
We are talking about two bootlegs to wide-open players (Ruckert and Yeboah) and two screens (Carter and Abanikanda).
These are four layup throws – easy first reads.
Hat-tip to him for completing them, but the thing that you need to see more of, is when he's asked to stay in the pocket and go through his progression – one, two, three, check down.
The first series of the game ended when Wilson, on third and 17, looked right to Tyler Conklin, and there was some hesitancy and a double hitch before he threw it to the tight end, and it was incomplete. He didn't seem to trust his eyes on this play. They kicked a field goal.
The second series ended with Wilson, on a third-and-two throwing high to RB Bam Knight and they punted. The fourth series, on a third-and-eighteen, he threw to RB Travis Dye in the left flat for eight yards and they punted. The fifth series ended with a force to Jason Brownlee into tight coverage (he wasn't open), it was broken up and they kicked a field goal.
In the first half, the Jets completed just two passes to wide receivers, a nine-yard pass to WR Alex Erickson and a 4-yard pass to Jason Brownlee. That is it.
What Wilson needs to do moving forward, is show he can sit in the pocket, go through progressions, and make more NFL QB-level pocket throws. You can only go so far with wide-open bootlegs, and by throwing screen passes.
I'm not trying to be negative, just dealing with reality . . .
Rookie linebacker Zaire Barnes continues to shine. He led the Jets with eight tackles. He has very good instincts and plays with little hesitation.
This guy looks like a potential sixth-round steal. Throughout camp and in the first two preseason games, he's displayed top-shelf instincts, and instincts are of the utmost importance at linebacker, so you don't take a lot of missteps that take you out of position . . .
The Jets starting defensive ends are John Franklin-Myers and Carl Lawson. Neither one of them played against Carolina, but was hard to tell the Jets were playing without starting defensive ends, with the way Will McDonald, Jermaine Johnson and Bryce Huff played, wrecking the game with their pass rushing.
Robert Saleh loves having a defensive line room with great depth because he rotates a lot, and where, when the second group comes in, there isn't a big dropoff. That is what he had in San Francisco. He didn't have that in his first two years with the Jets. He might finally have that with the Jets. We mentioned the ends, but the depth is also better inside with the additions of Al Woods and Quinton Jefferson, to go with Quinnen Williams and Solomon Thomas.
August 14, 2023
Premium will return by 9:30 pm or sooner on Tuesday.