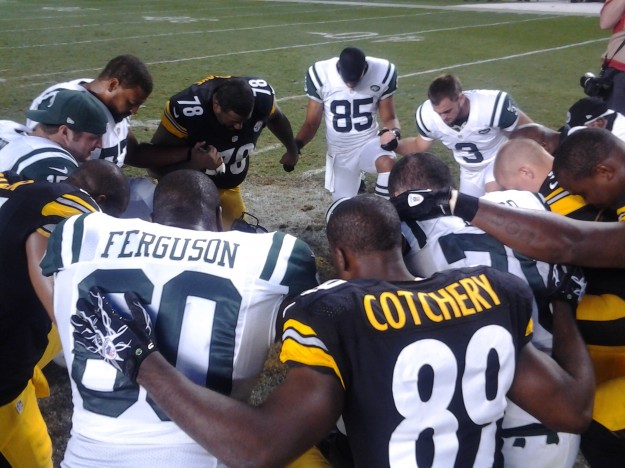 Pittsburgh – It's way too early to push the panic button on the Jets.
Let's be honest, how many of us thought they were going to win in Pittsburgh?
This was a house money game.
And while the Jets didn't play great today, you have to give Ben Roethlisberger a ton of credit.
How many times did the Jets have him in their grasps for sacks, and he escaped and made plays?
He's unbelievable in this regard.
To me, that was the biggest factor in this game.
"It's amazing what he does back there," said OLB Garrett McIntyre, who had a terrific game. "He has an uncanny knack for getting it. It blows me away."
Hey, New England lost AT HOME to Arizona, and Dallas got blow out by Seattle, 27-7.
It's such an unpredictable league – any given Sunday.
But the Jet losing at Pittsburgh isn't a shock.
Something I note in the next issue of Jets Confidential Magazine, which will be mailed tomorrow, is how many young, inexperienced quarterbacks the Jets have on their schedule, who their defense, especially with the return of Darrelle Revis, will feast on.
And that include the next opponent, the Miami Dolphins.
I expect the Jets do dominate Ryan Tannehill. The Raiders corners are awful, so don't get too excited about what Miami did today.
The Jets aren't a team you want to play with a young quarterback – I'm telling you.
Big Ben can deal with them, but a lot of these other guys won't be able to.
So the Jets Nation should not take this lose too hard.
Who really thought the Jets were going to win at Heinz Field, anyway?
They were six point underdogs . . .
McIntyre is a keeper. He finished with two sacks and four tackles for losses.
The guy is really tough, plays with outstanding technique, and has terrific instincts . . .
Bart Scott played an outstanding game. He is a superb player in the box – against the run and as a blitzer. He definitely brought his A-Game to Pittsburgh . . .
Quinton Coples played very little today.
The Jets came to their senses and started Mike DeVito ahead of him, and that helped the run defense.
Coples is a liability against the run right now.
He has a lot of work to do to become a full-time 3-4 end, so using him mainly on passing downs right now, makes the most sense . . .
Santonio Holmes was targeted 11 times today, and made three catches. That is an awful ratio.
Sanchez was forcing the ball to him way too much today, and that has to stop . . .
You should have seen the love shown Jerricho Cotchery after the game on the field from Jets players, coaches and officials.
Mike Tannenbaum has made a lot of good moves as the Jets GM, but letting this guy walk was a huge error.
He brought so much to the Jets, on, and off-the-field.
And all the affection thrown his way after the contest is proof positive how much he meant to so many around the team.
September 16, 2012
(Premium will return by 10 pm on Monday night.)
---