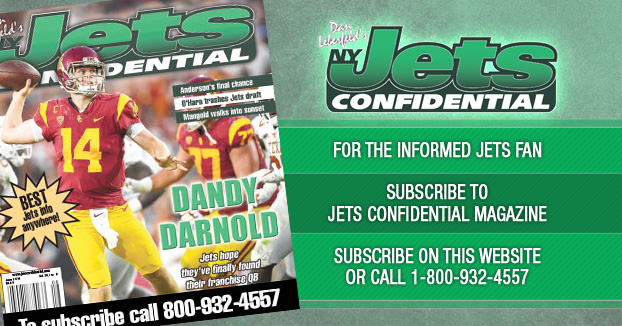 Florham Park – Sam Darnold has a lot of things going for him, and this is one of them.
Unlike a lot of young quarterbacks who need guys open to throw, Darnold will throw guys open.
He's not afraid to throw 50-50 balls and let the receiver go up and get the rock.
In Wednesday's practice, in a red-zone drill, Darnold threw a fade on the right side of the end zone to wide receiver Charles Johnson (who is having a very good camp).
Rashard Robinson had tight coverage on Johnson, but Darnold had enough confidence to throw it up to an area he felt #88 could grab it, even with the cornerback in his hip pocket.
Johnson caught the ball for a touchdown.
And considering how small most NFL passing windows are, you need to be able to make these throws to be a successful NFL QB.
Many young quarterbacks are afraid to make these kind of throws because they're petrified of throwing interceptions.
Darnold isn't.
*****************************************************************************
THERE ARE THREE DIFFERENT OPTIONS AT JETS CONFIDENTIAL!
*We have a monthly print magazine delivered to your mailbox every month year-round loaded with great Jets info for just $39.95 (includes a free Jets player calendar – limited time offer).
*We have Dan's Jets Website Whispers, Monday-Friday on this website, all the good stuff from One Jets Drive, M-F, year-round. This is different content than the monthly magazine, and it's just $7.95 a month.
*And for $74.95, you can get "The Whole Enchilada" – the monthly magazine and the Monday-Friday Website Whispers.
Click below to subscribe or call 1-800-932-4557 (M-F, 9-5).
---