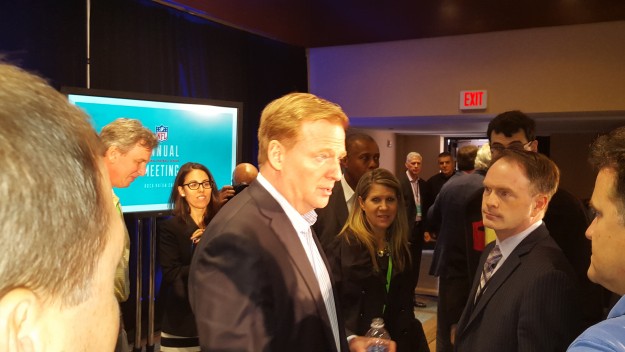 Dear Owners,
Please see the below message sent on behalf of the Compensation Committee.
All,
In recent days, we have spoken with each of you individually regarding the status of the negotiations to extend Commissioner Goodell's employment contract. In the course of those discussions, we have reviewed with you the details of the contract extension. Our Committee unanimously supports the contract and believes that it is fully consistent with "market" compensation and the financial and other parameters outlined to the owners at our May 2017 meeting, as well as in the best interests of ownership. We also have expressed in those conversations our strong and unanimous belief that we should proceed to sign the agreement now, consistent with the unanimous May resolution and to avoid further controversy surrounding this issue. We are pleased to report that there is a nearly unanimous consensus among the ownership in favor of signing the contract extension now.
Accordingly, this will advise the ownership that a binding contract extension has been signed by the Commissioner and by Arthur Blank, on behalf of the League entities.
We are pleased to have resolved this issue and we appreciate the strong support received from our partners. It was particularly gratifying to hear so many owners commit to being more engaged in League affairs and to express the desire to work more closely with the Commissioner and League staff on matters critical to the League. We know that we speak for all of you, as well as for the Commissioner, in saying that the NFL is strongest when our ownership is active and unified.
We look forward to seeing each of you at the Special Meeting in Dallas on December 13th and to working together, as a partnership, to address the important issues facing the League.
Sincerely,
Compensation Committee:
Arthur Blank, Chairman
Clark Hunt
Robert Kraft
John Mara
Bob McNair
Art Rooney
---