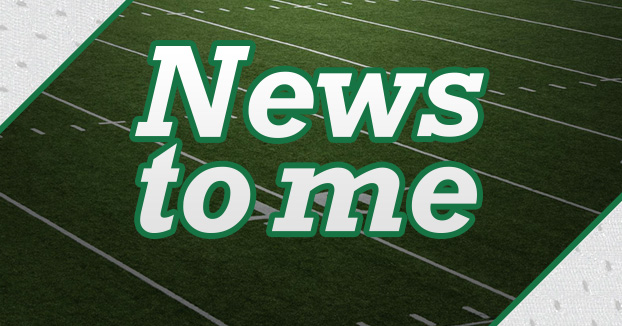 Content available exclusively for subscribers
Please subscribe now to unlock this article!
New Jersey – There was one story-line that came out of OTA's this week, that didn't get a lot of attention, that is something to keep an eye on . . .
Jacoby Ford was held out of practice on Wednesday due to foot injury.
It could have been more practices this week, but we only got to watch one.
Not to make a mountain of a mole hill, but this is a player who has only played one entire season over the course of his four-year career.
And it's important to consider that he missed the entire 2012 season with a Lis Franc foot injury. This was the malady that sidelined Santonio Holmes for most of the 2012 season.
Is Rex Ryan concerned?
"It was nothing," Ryan said on Wednesday about Ford's foot. "I say nothing, if it was my foot, it would be nothing. (joking) With those speedster guys sometimes you know, he wasn't 100 percent right."
I could be wrong, but that sounded like a slight tweak of Ford.
"With those speedster guys sometimes you know, he wasn't 100 percent right."
Hey, nobody is 100 percent in this league.
When you have Lis Franc surgery, honestly, you are never going to be exactly the same ever again. I'm not saying you can't play effectively, but we are talking about a very serious foot injury that requires the insertion of a screw.
Ford probably realizes this is his last chance after an injury-plagued four years in Oakland (he also had a knee issue), and he's not taking any chances in the spring with his foot.
But, if Ford continues to have injury issues in training camp, the Jets might move on.
After all, he's playing for a league minimum salary, and got just a $65,000 signing bonus. While that is a lot of money to most people, in the NFL, $65,000 is chicken scratch. The Jets would eat that, if need be.
But the Jets are keeping their fingers crossed.
This guy could really, really help them, and they know it.
He's an outstanding kick returner.
The Jets kick returner game was substandard last year.
Even with all the time he missed in Oakland, Ford set a Raiders franchise record with four kickoff returns for touchdown.
His receivers coach in Oakland was Sanjay Lal, now with the Jets. Under Lal, Ford had his best season at receiver in the Bay Area, with 25 receptions and two touchdowns as a rookie.
This guy is a good football player.
Ford is one of those free agent signings that could turn out to a major steal.
He ran a 4.28 forty at the 2010 Combine, one of the fastest times ever recorded at the event.
Clearly Ford's foot flaring up is a reminder to the Jets, that this guy needs to be handled with care. You see how fast Jets trainer John Mellody shut him down in OTA's when the football bothered him a little.
Also, with a Lis Franc history, they are going to have to limit his role. Let him return kicks, and play sparingly on offense – keep his snaps down.
With Ford sidelined on Wednesday, rookie Jalen Saunders returned some kicks. Not a good idea. This guy is an excellent punt returner, but not an average kick returner. There is a difference. And having him return kicks could be very dangerous for the 165-pound player. The collisions on kick returns are generally more severe than punt returns.
You know who looked pretty good returning kicks? Waiver claim Johnny Patrick. He showed nice quickness and speed heading up field.
But this is Ford's job to lose.
And the only way he loses it, is if he can't stay on the field.
June 13, 2014
Premium will return by 9:30 pm on Monday.