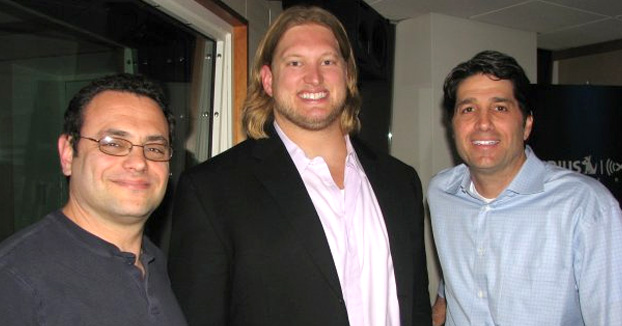 One part of the Jets blueprint to get into the playoffs, is they need the Houston Texans to beat the Tennessee Titans. So will Nick Mangold be smiling when he sees the final score in Houston?
This game is at the same time as the Jets-Miami game, so there will be a lot of scoreboard watching by Jets players, coaches and fans. To get some insight into the Tennessee-Houston game, which will be played at Reliant Stadium in Houston, I checked in with a friend of mine, a Houston broadcaster, who knows a ton about the Texans scene. Here is that conversation –
Q)Even though Houston has nothing to play for, do you think they are going to try hard to win this game?
Texan Insider: I expect the starters to play. The sense I got is that they are playing the game to win.
Q)Why do you get that sense?
Texans Insider: They've lost two in a row, and haven't really played well over the last three weeks, so they need some momentum going into the playoffs. There's no precedent for what Gary Kubiak does in these situations, obviously, but I can't see how this team would rest its starters.
I think they should have the chance to open up the playbook more with T.J. Yates, since a loss doesn't have any impact.
Q)Will star receiver Andre Johnson play against Tennessee?
Texans Insider: Gary wants Andre Johnson to play.
Q)Is Kubiak going to stick with rookie T.J. Yates at quarterback, or is he going to get Jake Delhomme in the mix?
Texans Insider: Kubiak thinks Yates is the better option, at this point. The thing about Delhomme is, the guy has been an interception machine over the last two years. 8 TD/18 INT, two years ago and 2 TD/7 INT last season. He was apparently battling some injuries, but I think Delhomme is probably over-the-hill.
Q)Do you think that Houston will beat Tennessee?
Texans Insider: It's totally up in the air. The Houston offense has been bad over the last two weeks.  They need to score way more points. I thought the game plan was irrationally conservative against the Colts. I believe they were 1-10 on 3rd down, with the one being a deflection to Jacoby Jones.
Houston crushed Tennessee in Nashville in October, but that was Matt Schaub's best game of the season.
To me, if the offense starts to execute well, they can definitely win this game.
---