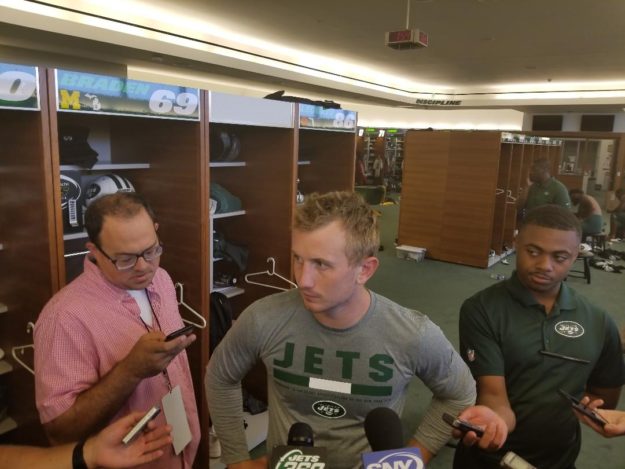 Q)What are your thoughts on signing with the Jets?
John Wolford: I'm just excited to be here, excited about the opportunity. You dream of playing NFL football and this is my shot. I will try to make the most of it.
Q)How much catching up do you have to do with the system in order to play in a preseason game?
Wolford: I was here for rookie minicamp so I have some familiarity with it. I have some catching up to do. The full playbook won't be on display Thursday night.
Q)What have you been doing since your minicamp tryout until now?
Wolford: I stayed in Winston-Salem, working out at Wake Forest. I was actually about to start a part-time job two weeks from now. That is going to be on hold, hopefully, while I'm doing this now.
Q)What industry was that other job in?
Wolford: Private equity.
Q)Were you looking at the new league – The Alliance?
Wolford: Yes. They reached out to me. I was claimed by a few teams and then it goes to a draft. I'm not really sure how that works, but yes, I had some interest there.
Q)How excited are you for the opportunity. Not everyone gets this opportunity, even if it's at the end of the summer?
Wolford: Extremely excited. Right after the Belk Bowl my senior year I've been working for this. I know my time is limited in what I can show, but I'm trying to make the most of it.
*********************************************************************************************************************
To subscribe to the monthly Jets Confidential Magazine, click below. So much stuff about the Jets you won't read anywhere else.
---