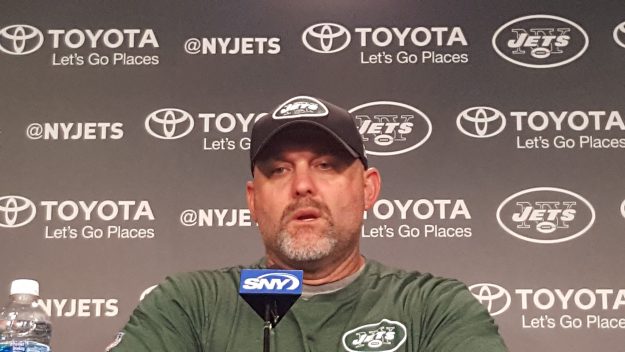 Q)What happened on that play (the late Josh McCown pick in Miami)?
Jets offensive coordinator John Morton: We had time left to go try and win the game. We had plenty of timeouts. We called the play and Josh didn't see the guy in the flat. He was blinded when he threw the (ball), and he picked it. That's what happened.
 
Q)What do you mean by McCown was blinded?
Morton: When you drop back and you know where you're throwing the ball, and you have the offensive line right there. He didn't see him because of the vision, That's why.
 
Q)How uncharacteristic is it for McCown to not see the defender on that play?
Morton: It happens from time to time with everybody. You drop back and you're throwing the ball, you see the coverage, and you know you're going to have that throw. All of a sudden you don't see that guy, you're going to throw it too. It just happened at a critical time, that's all.
 
Q)Why not call a screen or draw on that play?
Morton: I called one of our best plays.
 
Q)That is one of your best plays?
Morton: Yes, based on coverage.
 
Q)Why would you say that's one of your best plays?
Morton: Because that's one of the best plays that we like to start with, one of them, based on what they do.
 
Q)Is it based on the coverage too?
Morton: Yeah, you call certain plays based on certain coverages that they play in certain situations.
 
Q)Why where your emotions after the pick?
Morton: Like I said guys, he didn't see the guy in the flat so he threw the ball and they picked it. I'll call the same play again because it's a play that works really well.
 
Q)Have you talked to McCown about protecting the ball?
Morton: I think he knows. He knows that we have to make sure we protect the ball and be smart. It just so happens that it happened at critical times, but we can't be doing that. For three quarters we played really good football, and then we kicked ourself in the butt with penalties and things like that. (We) Can't do that. 
---