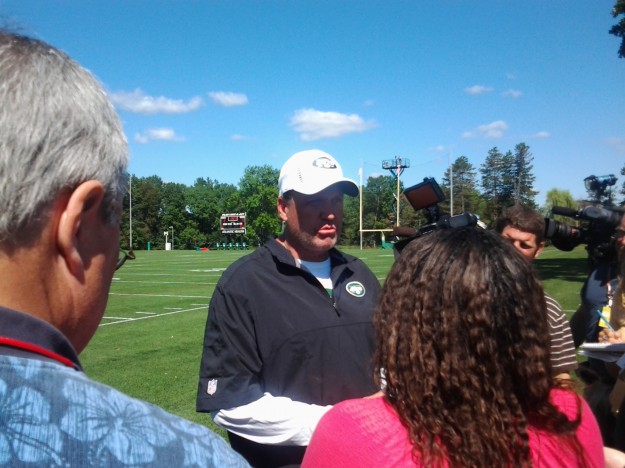 Rex Ryan was a little more diplomatic on the Joe McKnight front on Thursday, compared to Wednesday.
On Wednesday, McKnight thought his move to cornerback was a statement about his play at running back.
Ryan says that isn't the case.
"That was certainly not the message that I wanted to send to him, so I wasn't clear on that," Ryan said on Thursday. "He's got talent as a running back. The one thing I know about Joe is when (he's) given an opportunity, as a kick returner, he led the NFL as a kick returner, so I think that's pretty impressive.
"He was the number one [prospect] in the country coming out of high school. His talent is pretty special. I had a cgoach from USC tell me that the day he walked on campus he was their best corner. They wanted to play him at running back, but that'll give you an indication of the kind of talent that Joe has.
"We're trying to teach Joe our defense. The coverages and things like that. He still has a role on offense. It's not that he's being forgotten as a running back, that's not the case. I want him to learn the coverages on defense. The way the league is now, you almost can't have enough corners. They're going three, four, five, receivers, so you have to be able to match up.
"The one thing I know from a physical standpoint, (is) that Joe can, from a talent and a physical standpoint, he can matchup. He can run. He's got size. He's got some natural instincts, and that's what we've seen. When we used to put him on scout team, that's what we saw. Yesterday, he actually picked off all three quarterbacks. That's a good thing and a bad thing. (laughter).
"I'm putting him in defensive meetings right now, because I think he needs that. I think offensively he's got a good enough grasp of our system, where he can do that. On defense, he probably can't tell you anything. "Reduce 63-Sky," what does that mean? Well, you've got a good enough chance of telling me about it as he does right now. That's why we're putting him in [defensive meetings], to kind of bring him along that way. Obviously, he'll still (has) a role on offense."
---