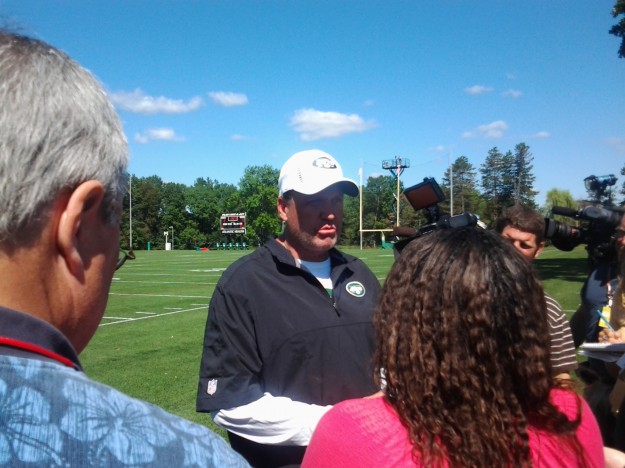 Here are some random thoughts from Jets coach Rex Ryan on the Pittsburgh Steelers –
"Dick LeBeau is a tremendous coordinator. I've stolen a lot of things from him. He borrowed some from us, but doesn't admit it (joking). I have a great deal of respect for him.
"They're extremely physical up front. Casey Hampton and (Brett) Keisel do a good job up front, but their linebackers are spectacular. The (Lawrence) Timmons kid is really a guy that (has been) jumping out to me lately. (He has) always been a run-hit guy. He's a tremendous player and (Troy) Polamalu and Ryan Clark are two big hitters over there. Ike Taylor. They're pretty darn good over there, this just in, obviously, (They were) the best defense in the league last year, (a) perennial top-five defense, in every statistical category. So we know it's going to be tough sledding there.
"On the other side, you get the day off because you have Ben Rothlisberger (joking). That's where it starts. It's amazing, when you look at his quarterback rating at Heinz Field, I believe it's 107. He's tough. There is no question about it. He does a great job in a traditional offense, but he also does a great job staying alive, making a guy miss (and) extending plays. You can never assume that Ben is down. I think that's something that over the years I've learned, he can make every throw, a big, strong kid and a better athlete than what you think a guy of his size would be.
"They're running more two-back runs. It's more like old-fashioned Pittsburgh football, so we have to be ready for that, the running game, so it's a huge challenge. Interesting personnel when you look at Pittsburgh's (wide receivers), (with) all that speed on the outside. Everyone knows about (Mike) Wallace, but (Antonio) Brown might be one of the most underrated players in football. Underrated, he still made the Pro Bowl last year, but I believe he's the only receiver in NFL history to have over 1,000 yards as a returner and over 1,000 yards receiving in the same season. Obviously, he's a special talent as well. They have a throwback tight end, who's the real deal in (Heath) Miller.
"It's a huge challenge. It's going to take everything we have and we'll see what happens. Obviously, we're going to give [a strong] effort and, at the end of the day, we'll see if that will be good enough to beat Pittsburgh."
---