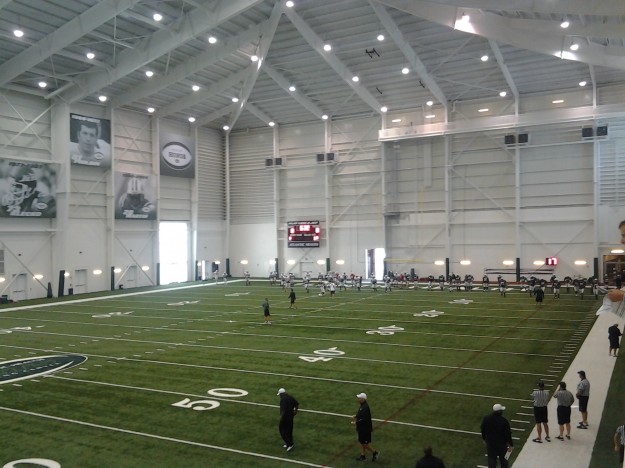 Here is Rex Ryan's commentary on the Jets' injury report –
"(Darrelle) Revis was cleared for non-contact practice and he did that. We followed NFL protocol this week and we'll always follow NFL protocol when it comes to concussions. Darrelle is ruled out for the game, so he will not play. He will not travel to the game. Neither will Dustin Keller, Bryan Thomas or Dennis Landolt. Obviously, they won't play.
"Guys who are questionable, John Conner and Isaiah Trufant, both of them were limited in practice today. Every one of these guys are probable for the game, they practiced full: Brandon Moore, Mike DeVito, Antonio Cromartie, Chaz Schilens, Nick Bellore, Laron Landry, Jeremy Kerley, Josh Mauga, Sione Po'uha, Eric Smith and Stephen Hill.
"With Darrelle not playing, we have a lot of confidence in Kyle Wilson. Obviously, he has to step up in a starting role. Ellis Lankster and Isaiah Trufant will share some nickel and dime responsibilities. It will be good to get Eric Smith back. We think he's ready to roll.
"I've always believed that the guys (that) step up and replace a guy, have to maintain that level, or even a little better. In this case, we'll take a little less with the Darrelle Revis deal. (smiling). It really is about the decal on the side of the helmet and we really play a team brand of football. When somebody goes down, somebody has to replace them."
---