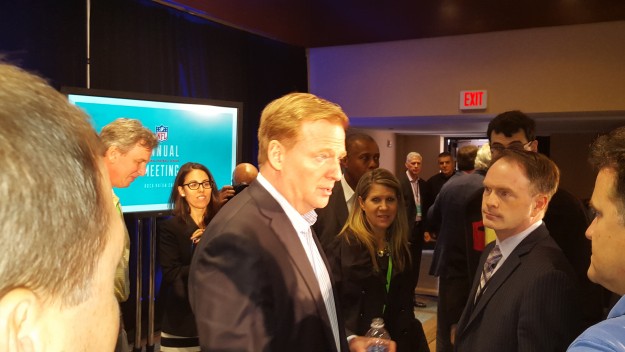 States, including New Jersey, are taking the NFL to the Supreme Court to allow sports books in their states. Currently, Las Vegas, Nevada is the only place in the United States you can legally bet on sports (aside from horse and dog racing).
NFL Commissioner Roger Goodell doesn't want sports betting in the United States expanded beyond Las Vegas. Why?
"To me it it's very clear, which is about the integrity of the game, you don't want to do anything that's going to impact negatively on the integrity of our game," Goodell told ESPN Radio this morning.
"You want to be certain that there are no outside influences on our game and that fans don't even have any issue with that, they understand, whether there's a perception or not, that there's no influence in our game. And that's something that we stand firmly behind on the integrity of our game.
"We see changes going on. Obviously I don't think ten years ago most people would have looked at having an NFL franchise or an NHL franchise in Las Vegas. Clearly there are changes occurring, the Supreme Court is considering changes potentially in laws with respect to gambling across our country.
"And I think we're going to be prepared as a league to address those, no matter how the Supreme Court comes out, but also how things continue to evolve. I think we have, but we are going to protect the integrity of the game, I assure you of that."
---