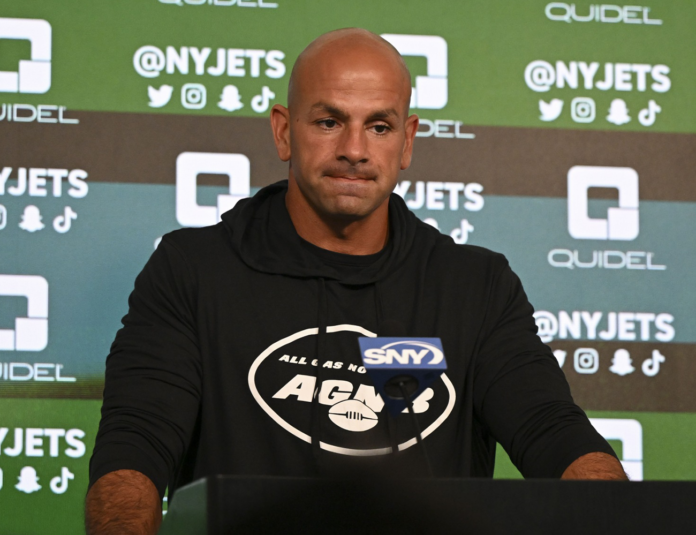 The ninth question to Robert Saleh today in his press conference was about Denver coach Sean Payton trashing Nathaniel Hackett for the job he did as Broncos coach last year.
From USA Today: "I don't know Hackett. A lot of people had dirt on their hands. It wasn't just Russell (Wilson). He didn't just flip. He still has it. This B.S. that he hit a wall? Shoot, they couldn't get a play in. They were 29th in the league in pre-snap penalties on both sides of the ball."
Here is the question about this quote from today's press conference and Saleh's response:
Mark Cannizzaro, NY Post: You have probably been made aware what Sean Peyton said today, I am assuming. Just kind of curious, what's your reaction to that? On (Nathaniel) Hackett and you guys kind of drawing attention and what not. Just as a follow up to that, do you feel because of all this stuff and Aaron here and Hard Knocks and what not, you have become a little bit more of a lightning rod here and that's something you have to deal with?
Saleh: Well, I'm not going to acknowledge Sean on that. He's been in the League a while, he can say whatever the hell he wants, but as far as what we have going on here. I can live by the saying 'if you ain't got no haters, you ain't poppin, so hate away.' Obviously, we're doing something right if you got to talk about us when we don't play until Week Four, and I'm good with it. The guys in our locker room, they've earned everything that's coming to them and really excited about what's going on. I think Hackett's doing a phenomenal job here. The coaching staff is doing a phenomenal job and we're focused on us. I get it, there's a lot of external noise. There's a lot of people who are hating on us. There's a lot of people looking for us to fail. There's a lot of crows pecking at our neck, but all you can do is spread your wings, keep flying high until those crows fall off and suffocate from the inability to breathe. It's a whole other analogy I'll get into later, but we're really, really, really excited about the group we have, the coaching that's going on, but I'm going to keep our focus on us and making sure that we're prepared every single day to do the best we can and learn from our past and grow with every moment that we have.