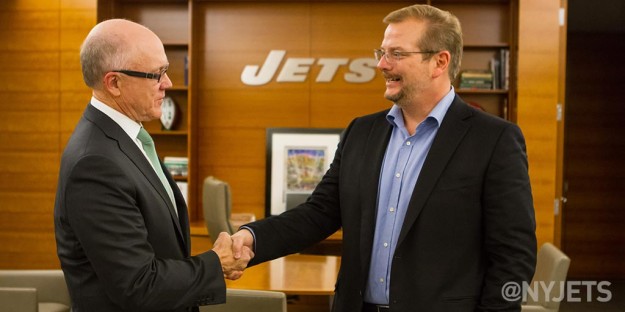 So much for Shane Ray being in play for the Jets with the sixth pick of the NFL draft. Ray cited for possession of marijuana this morning in Cooper County, MO.
There is no way Mike Maccagnan can pick him up six. You can't make your first pick, of your first draft, somebody who with such poor judgement right before the draft. What a bad precedent, tone, that would set in the building, in the locker room.
Now we can debate this pot issue until the cows come home, and how it's legal in some states and not others, and the mixed messages that sends, but the bottom line is the NFL doesn't allow it. So if you want to play in the NFL, you have to avoid it.
I kind of feel bad for Ray.
He comes from one of the worst neighborhoods in the United States, an area of Kansas City known as "The Murder Factor." I can't even imagine the things he saw growing up.
And he was about to win the lottery, so to speak, and become a high draft pick in the NFL, and get the heck out of there, helps his mother.
And now this happens.
It's sad . . .
With all the conjecture about the Jets trading up, there might be too much speculation about a possible move-up being for a quarterback.
Redskins general manager Scot McCloughan told reporters on Monday that he expects phone calls if USC defensive lineman Leonard Williams falls to the Redskins with the fifth overall pick.
It would not be shocking for the Jets to trade up for Williams.
Both Bill Walsh and Jimmy Johnson, who both own multiple Super Bowl rings, felt that you build championship teams with dominating defensive lines and a franchise quarterback. If you get those two areas taken care of, they felt the other stuff will fall into place.
Can you imagine a defensive line of Mo Wilkerson, Sheldon Richardson and Williams?
Or another possible target if the Jets trade up could be Dante Fowler Jr. or Vic Beasley. The Jets need a game-wrecker at 3-4 outside linebacker to complete their defense. It's the one glaring need still missing.
So when we think about trade-up for Gang Green, I think we need to take the focus off quarterback.
The best case scenario for the Jets is staying put at six, and having Beasley slip to them there. Fowler and Williams will likely be gone, but Beasley could be there.
He is the all-time sack leader at Clemson with 33 and had a tremendous workout at the combine. He put on quite a show in Indianapolis – at 6-3, 246, he ran a 4.53, bench-pressed 225 35 times, and had a 41-inch vertical. That is a heck of workout, and is illustrative of what an explosive athlete he is. He's also a terrific kid, who has his degree.
If the Jets could come out of this draft with Fowler Jr. or Beasley in the first round, that would be quite an accomplishment for them.
Some people have attached them to Kentucky's Alvin "Bud" Dupree, but as I've mentioned before, his pedestrian instincts, makes sixth overall a little pricey for him . . .
April 27, 2015
Premium will return by 9:30 pm on Tuesday.
---