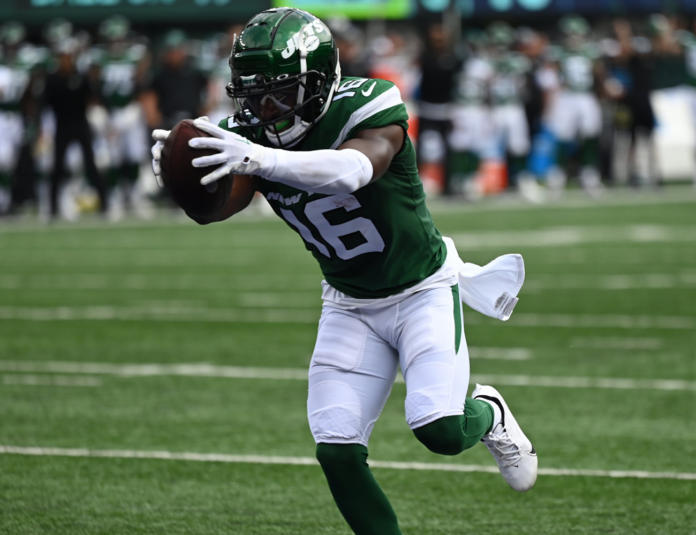 Content available exclusively for subscribers
Please subscribe now to unlock this article!
One of the highlights on Thursday's Jets practice was
Aaron Rodgers hitting promising rookie free agent Jason Brownlee for a 25-yard touchdown pass down the right side.
Nice throw, nice catch.
But remember, often when there is an offensive highlight in a training camp practice, there might also be a lowlight on he other side of the ball, since this is Jets vs. Jets.
So why was Brownless so unbelievably wide open?
The problem is, unlike games, you can't get tape to rewatch practices to go over plays like this.
A highlight of this play was put on their website, but the way it was framed, it was hard to see who was supposed to be covering Brownlee, and when he caught the pass nobody was near him in the frame.
Tony Adams was a deep safety on that play, and his first step was toward the middle of the field, and then you can see him trying to get over to Brownlee late. After the play, you can see Adams talking to a coach, putting his arms up like – "What just happened there?"
I'm not going to blame Adams without knowing the assignments, but all I know is the receiver was wide open for a touchdown down the right sideline. No matter what defense was called, there is no way that was how it was drawn up.
People are always talking about how good the Jets' defense should be this year. When I'm asked about that side of the ball on radio shows, I consistently bring up the safety and linebacker coverage as a concern.
Not entirely sure who was at fault here, but regardless, the safety and linebacker pass coverage is something to keep an eye on. It must get better. Too many missteps in games last year and on the practice field . . .
Brownlee is obviously a very talented player. One thing about the NFL draft process; it's always loaded with receiver prospects. There is never a shortage at that position like at cornerback.
So some very talented guys fall through the cracks and go undrafted. Brownlee is an example of that.
NFL.com draft analyst Lance Zeirlein nailed it with this line in his scouting report on Brownlee – "Perimeter wideout with NFL size, an outstanding catch radius and the potential to outplay his draft slotting."
Perhaps Brownlee went undrafted because he only ran a 4.59 forty and his reception numbers weren't eye-popping in college, but he certainly wasn't playing with Aaron Rodgers in Hattiesburg, and you can see that this player, with an elite QB, is a different prospect, than what you saw at Southern Mississippi. He was good in college, but with a top-shelf QB, you are seeing a prospect who could have easily gone in the middle rounds . . .
It's going to be interesting to see how the Jets use Will McDonald as a rookie. He's very gifted athletically, but very slender, as you see in the photo above. He looks like he's under 240 right now. It's going to be hard for him to play on obvious running-downs this year because he could get engulfed by tackles. I saw him twice yesterday, run right into Carter Warren, trying to bull rush the rookie tackle, but to no avail.
McDonald is a very talented prospect, but he clearly must get bigger, which is hard for some young players because their metabolism hasn't slowed down yet . . .
Robert Saleh's response to Sean Payton trashing Nathaniel Hackett was smart from a locker-room standpoint.
"As far as what we have going on here, I kind of live by the saying, 'If you ain't got no haters, you ain't poppin', so hate away," Saleh said, quoting a rap song.
A lot of players are rap fans, so this quote will play well in the locker room. The Jets play rap music during practice. One of the keys to coaching is connecting with your players, and Saleh consistently does a great job with that.
July 28, 2023
Premium will return by 9:30 pm or sooner on Monday.