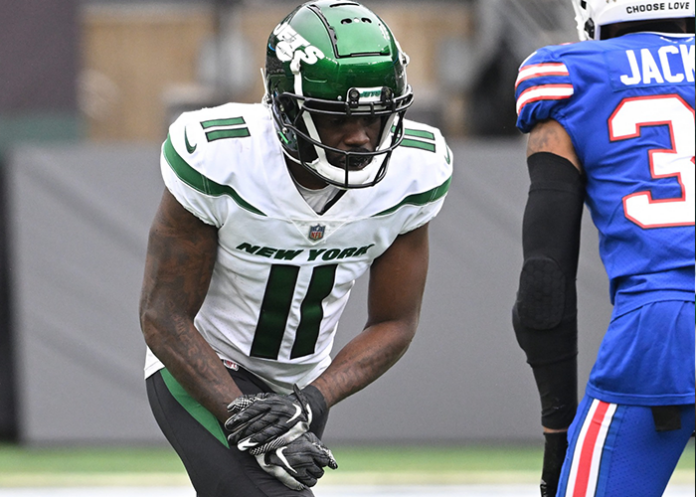 Content available exclusively for subscribers
Please subscribe now to unlock this article!
Regardless of who was playing,
this wasn't good.
Talking about the Jets giving up 172 yards rushing against the Cleveland Browns on 33 carries for a 5.2 average.
Now some might point out they were playing without a lot of defensive starters.
But it should be pointed out that guys who did play like Michael Clemons, Jermaine Johnson, Bryce Huff, Will McDonald and Jamien Sherwood, will get a lot of playing time this season.
And Tanzel Smart, who has been with the Jets since 2020 bouncing between the regular roster and practice squad, saw a lot of action.
However, the point here is to single out any of these guys. There was plenty of blame to go around, and there was a lot of mixing and matching of Jets defensive lineups out there.
The concern, if there is one, is more philosophy related.
It's well documented that the Jets' current defense the last couple of years, under the current regime, has been loaded with smaller, quicker guys in the front seven, who are asked to shoot upfield quickly off the snap and run sideline to sideline.
The problem with this approach is sometimes these smaller, quicker guys can get engulfed by blockers in the run game, and that seemed to happen a lot in Canton.
So no matter who was out there, this is more of what we saw during the six-game losing streak the Jets suffered to end last season.
So this is why the signing of massive nose tackle Al Woods is so important.
The 330-pound Woods is the kind of space-eating nose tackle this defense desperately needs.
The 36-year-old Woods was inactive in Canton.
He should be able to help the problem we saw last season and in the Hall-of-Fame game.
The only thing I don't get regarding Woods is all this talk about how he'll finally get to play in a scheme he runs sideline-to-sideline, and not be just stuck in the middle taking up double teams.
A little confused by that. Why would you want a 36-year-old space-eater, who wears a knee brace, running sideline to sideline? Is that really his game? Is his body built for that? Isn't he better off at this stage of his career, staying home in the middle of the line and just wreaking havoc inside?
But that notwithstanding, Woods should help the Jets fix the issue they had late last year, and against the Browns.
He's a massive, powerful man, who makes it hard to run up the middle . . .
It was a really nice throw, but it doesn't mean he had a great game.
Talking about Zach Wilson.
Yes, his 57-yard dime to Malik Taylor, was a really nice throw, but does that mean you heap praise on the overall performance?
That third-and-two on the first series wasn't what you are looking for.
He had all day to throw, couldn't find anybody, and then scrambled and slipped for a gain of zero, and the Jets punted.
The Jets are very deep at receiver in camp. There is a lot of talent in that room. So even with backup receivers (against a backup defense), you are telling me nobody was open?
The second series, he had the 57-yard pass, but three plays after that, he badly overthrew WR Xavier Gipson, and the team had to settle for a field goal.
His third and final series, when the Jets took over on a short field after a Cleveland fumble, it was a three-and-out with Wilson's getting his third-down pass batted down at the line, and the Jets settled for another field goal.
So yes, nice throw to Taylor for sure, but he still has a lot of work to do.
August 4, 2023
Premium will return by 9:30 pm on Monday.