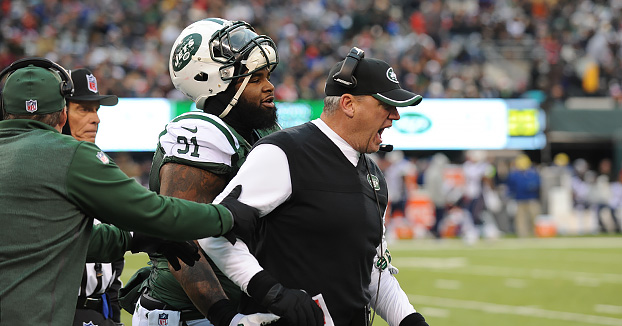 East Rutherford – The Jets' script was the same today as so many other times this season, and in the last few seasons – the defense played well enough to win, and they didn't get enough from the all-important quarterback spot . . .
They needed just a few more plays from the quarterback position today.
Once again, I'm not blaming Geno Smith.
I've always been a strong believer that when a person is put in a position, by their boss, that they are clearly not ready for, it's not that the person's fault, it's their superior's fault.
This guy should have sat for two, maybe three years. He was a major project.
Now the Jets have given him essentially two seasons to develop his wares, and while there might be incremental progress, they don't have much to show for it.
Perhaps they have developed a good backup.
Here is Geno's game in a nutshell – if the first read is open, he can generally execute that pass. The second scenario that works is when he has plenty of time, and a receiver flashes wide open in his wheelhouse, generally the middle of the field, he can fire a rocket, and generally successfully complete this kind of pass.
But there are generally no timing routes and few small window throws.
Brian Billick put it perfectly recently, "Young quarterbacks need a player to be open to throw, veteran quarterbacks throw guys open."
For instance, his only touchdown pass today – a 20-yard strike to Jeff Cumberland down the right seam, was a ideal scenario for him. Patrick Chung blew the coverage, and Cumberland was wide open, about five yards behind the safety.
Look, I understand Geno has a lot of company with his current skillset (first read or wide open throws) among a lot of young quarterbacks.
But you can't count on these scenarios on every play, so that leads to a lot of inconsistency, where drives stall and you have to punt or kick field goals.
So in a quarterback-driven league, the Jets are just not getting enough plays from the quarterback spot.
It's as simple as that.
Sometimes players talk in code in their sound-bites. They don't want to throw teammates under the bus, but if you read the tea leaves, they are telling you something significant.
"In the red zone again, just had to kick field goals," said Eric Decker. "Against a good team, you're not going to win kicking that many field goals."
In other words, the QB isn't getting his offensive into the end zone enough.
Over the last month, the Jets lost to Miami by three, Minnesota by six and New England by one.
In my opinion, with Mike Vick at quarterback they win all three, or perhaps two of these games.
Vick isn't great, but he makes more happen than Smith. They just needed a few more plays in these games to push them over the top.
For the life of me, I don't understand why they went back to Smith after one bad game by Smith.
That clearly isn't what the locker room wanted.
And the coaching staff probably didn't either.
I asked a veteran NFL columnist, sitting next to me at today's game, why he thought they went back to Geno.
He gave an interesting answer.
He feels that if Geno was pulled for good, it would actually hurt the GM more with the owner, than Smith playing.
In other words, the owner would feel like, "Why did you pick this bust QB?"
If he keeps playing him, he's not a bust yet, and he's supposedly progressing in these games as part of his maturation process.
Maybe, but I still would have played Vick.
Let's say the Jets had one all three of these close games with Vick. They are now at 6-9, and the owner might be thinking, like he did last December, "We are headed in the right direction."
Seeing Woody on the sidelines, and practice, at the Minnesota game in the press box, I think he's past the point of anger.
He almost seemed like a man who has decided what he's going to do, and is comfortable with it.
I think Rex is gone.
I think Idzik is likely gone.
I think the only way Idzik stays is if the Jets hire a big-time head coach, let's say, for argument sake, a guy like Jim Harbaugh or Art Briles, and the coach get final say on personnel, and they want a GM who will do the contracts, and gather the information for them on available players. Idzik could stay if the new coach wanted him, kind of like the role Howie Roseman has in Philly under Chip Kelly.
But whatever the Jets do, in 2015, if they want to get more wins, they need to get more plays from the quarterback position.
There is now ay around that.
December 21, 2104
Premium will return by 9:30 pm on Monday.
---