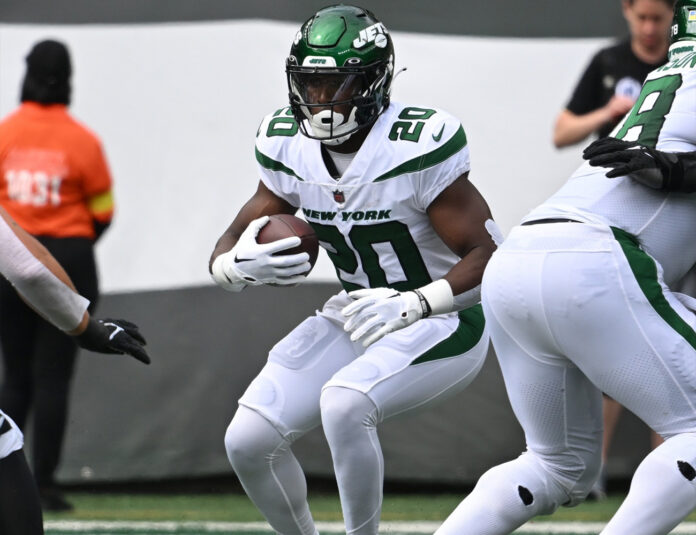 Content available exclusively for subscribers
Please subscribe now to unlock this article!
He was asked if running backs Dalvin Cook and Breece Hall will be on a snap count in the opener.
"I don't know if I want to call it a snap count, but we are gonna be smart with them," Saleh said. "We'll continue to evaluate and build up what we think Monday needs to be, but it's not that we're putting a snap count on it."
While the stenographers will just run with that quote, file stories and call it a day, I just have one thing to add: Of course they're both on a pitch count.
Cook didn't practice once in training camp after signing late, and Hall is coming off knee surgery, and was still rehabbing for most of camp.
Of course, they both are on pitch count.
The coach might not want to use the words, but that is what we are talking about here, and rightfully so, considering the case of each player.
Look, I have no issues with the coach, and I think they are going to have a really good season, but I refuse to be a stenographer.
They are both on pitch counts and rightfully so . . .
"I'm very confident," Jet cornerback D.J. Reed said. "I think we have the potential to be the best defense in the NFL. Honestly, I think we can be historical, not just the best defense in the league, but I think we can be a historical defense like the '85-'86 Bears and the L.O.B. (Seahawks' Legion of Boom) in 2013. I think we can be that dominant if we just put all the things together."
Some would argue it's perhaps just beat to focus on Buffalo in Week 1, and not focus on being the '85 Bears.
Sometimes if the questions are weak sauce, it leads to answers like this, and the press conferences these days at 1 Jets Drive are way different than they used to be. This is not a tough market. There are very few nuts and bolts football questions, and a lot of questions about expectations, and frivolous stuff.
Things that lead to answers like Dalvin Cooks saying the Jets Super Bowl chances are "very realistic."
How about beating Buffalo first?
As far as the defense, I think Reed will do his part. He did a good job in his first season with the Jets last year and looked solid this summer. His partner, Sauce Gardner, should also be solid.
And the defensive line should be good.
But what about the safeties?
Reed brought up the "Legion of Boom."
That defense has a superb safety tandem in Earl Thomas and Kam Chancellor.
The Jets safeties are a major question mark. Not sure what they have there.
People can write feel-good stories about Tony Adams, but I, for one, have no idea what they have in him as we sit here right now.
He could be good, but who knows?
Jordan Whitehead is a thumper against the run, but he had a pedestrian season last year against the past. Have you ever heard a question about that this off-season or summer in the tough media market?
As we sit here right now, Whitehead in coverage has to be a little bit of a concern.
As is the linebacker coverage.
So with all due respect to Reed, who is a heck of a guy, and Cook, I would just focus on Buffalo now, and tell the questioners that.
Don't give them what they want, like bringing up the '85 Bears and this team having Super Bowl potential.
September 4, 2023
Premium will return by 9:30 p.m. on Tuesday.