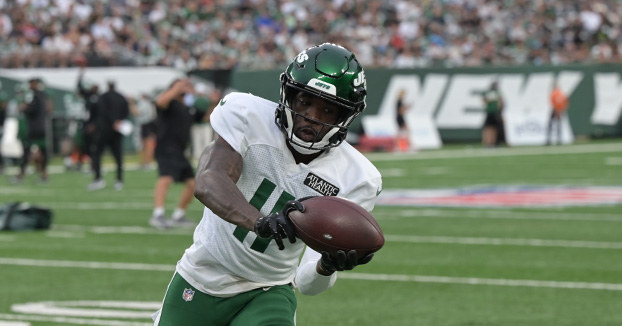 These Denzel Mims narratives are just bizzare.
I just saw this headline on a website – "Jets not ready to part ways with WR Denzel Mims."
I'm not even criticizing that website for running that headline. There are other aggregation websites with similar headlines.
But how did we get to this point? Clicks?
It started with stories that he wasn't getting a lot of first-team reps, and that somehow morphed into they might look to move him?
This isn't a player Joe Douglas inherited from the prior regime. This is the first receiver he picked, in his first draft as Jets GM, grabbing the former Baylor star in the second round of the 2020 draft.
Douglas obviously likes the player's skill-set a great deal, so why would he look to trade him a year after picking him?
Mims might not start with Corey Davis, Keelan Cole and Jamison Crowder on board, but he's going to have a role.
All these training camp narratives about his reps and his future have turned into the theatre of the absurb.
*****************************************************************
To subscribe to Jets Confidential Magazine, click below, or call 1-800-932-4557 (M-F, 12-4). The best Jets coverage anywhere! Also, you can subscribe to our Website Whispers, posted Monday-Friday year round, on this website. So much stuff you won't read anywhere else, and different content from the monthly magazine. You can grab a combo deal – a year of the print magazine and the M-F Website Whispers – all for $74.95 a year.
---