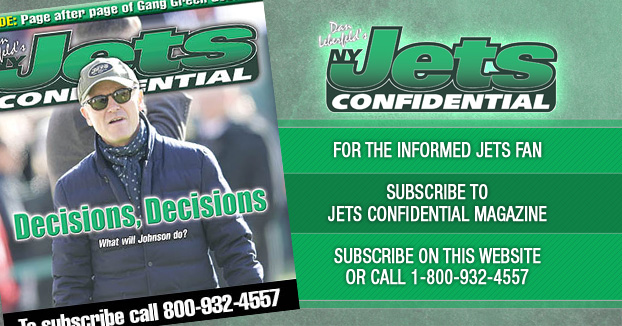 Content available exclusively for subscribers
Please subscribe now to unlock this article!
People might wonder why the Jets would do this.
I get it.
I'm talking about the Jets re-signing Steve McLendon.
People will say, "Why would you bring back a 33-year-old nose tackle, especially on a team that struggled against the run last year."
First off, the run issues mostly weren't his fault – the problems on the defensive line was more with Nathan Shepherd and Mike Pennel, who were too inconsistent. One analytics site, which a lot of people blindly quote, raved about Pennel's play last year. I didn't see what they say. He had his moments, but I too often saw a massive, powerful nose tackle who was controlled too easily by one blocker. The Jets let him go and they are staying in a 3-4 defense, so do you think the Jets agreed with the analytics site most writer quote? No. Pennel's motor is too inconsistent and he doesn't dominate the way a man with size and strength should. Maybe Bill Belichick can get his motor to run consistently, because the Jets former staff couldn't.
Shepherd played way too much last year for a raw rookie from Fort Hays State. Why? You will have to ask Todd Bowles. It made no sense. He was over his head. He needed a redshirt year to work on technique.
McLendon wasn't a standout, but he played fairly well, and always gives you 100 percent and plays with great technique. He had 44 tackles last year, not bad for a rotational nose-tackle.
They need McLendon to start between 3-4 ends Leonard Williams and Henry Anderson. They can draft somebody as the heir apparent, or maybe Shepherd or Foley Fatukasi will emerge.
The other reason he's being brought back is he's a tremendous leader, on a team that doesn't have enough. He's a true alpha dog, who not only rallies the troops with fire-and-brimstone speeches in practice and before games, but also tutors young linemen all the time after practice. He's has great football and personal character. I think this is an underrated, smart move by the Jets . . .
The Jets decision to not re-sign Andre Roberts is beyond comprehension. There is no rationale for letting the Pro Bowl kick returner walk.
"Jets Nation, I loved representing you at the Pro Bowl and as an All-Pro," Roberts tweeted today.
That tweak, or tweet, says it all. There is no defense for this. Like the Brits used to say, "Penny-wise, pound foolish."
Trenton Cannon will replace him as a kick returner, but he's not a legit punt returner, because he flags too many punt. So now they will have to split the jobs, and perhaps burn an extra roster spot . . .
Somebody wrote today, "The Jets already lost one cornerback in free agency, watching Buster Skrine sign with the Bears."
Lost one cornerback?
Explain that to me?
Lost a guy who consistently got beat in coverage and got flagged for myriad penalty?
Lost a guy they made no effort to re-sign?
Can we stop this!
They had to move on.
My goodness, to act like this is a void they need to fill, is beyond comprehension.
Let's deal with reality people, even if it offensive to his media-friendly agents, who've got to be happy now anyway, with the Bears giving the players a three-year deal for $16.5 million with $8.25 million guaranteed. They did an amazing job for their client.
And ESPN's Adam Schefter announced tonight the Jets signed former Atlanta Falcons nickel back Brian Poole.
March 14, 2019
Premium will return by 9:30 pm on Friday.