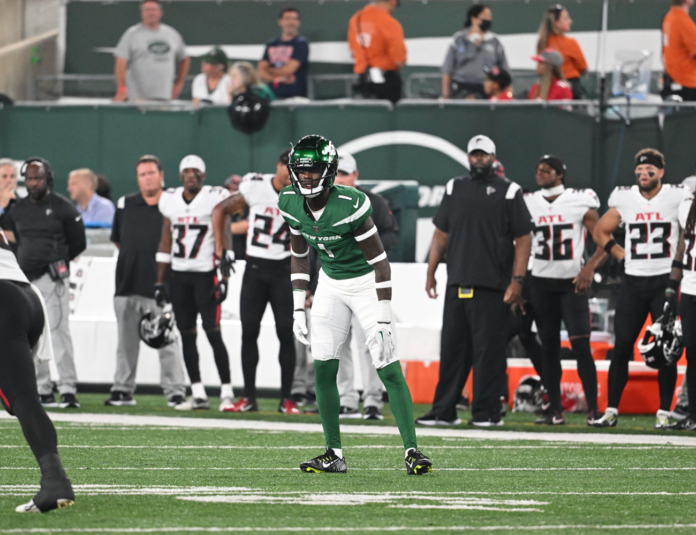 Content available exclusively for subscribers
Please subscribe now to unlock this article!
There was a play today . . .
where Aaron Rodgers seem to audible at the line, and roll left, and the receiver on that side didn't seem to be where the was supposed to be, and Rodgers didn't throw the ball. He didn't scramble either. He just stopped the play.
He talked to the young receiver after the play probably about where he was supposed to be.
One thing you have to keep in mind with reporters doing practice stats, is sometimes in camp young receivers make assignment mistakes as they attempt to learn the playbook. Hey, that is what camp is for, right? Learning and developing chemistry. Not stats . . .
Two rough plays for the Jets secondary at the beginning of the team (scrimmage) part of practice:
First, Rodgers threw deep left to Garrett Wilson and Sauce Gardner was called for pass interference. Then, on the very next play, Rodgers hit Wilson on a quick slant that he took a long way. He was wide open. Where was the coverage right in the middle of the field? I have no idea who was supposed to cover him, so I'm not pointing fingers, but this didn't look right. Saw two safeties talking to each other after the play.
There was another play where Breece Hall was wide open on a quick slant with nobody covering him.
I don't think the Jets have anything to worry about at cornerback with Gardner and D.J. Reed. However, some of this safety/linebacker coverage has to be a little bit of a concern . . .
Joe Tippmann is getting some great mentoring this summer. You often see Connor McGovern tutoring him on the sideline, and today you could see veteran center/guard Wes Schweitzer working with him on technique . . .
Both Jets starting guards (Alijah Vera-Tucker and Laken Tomlinson) were out today, so the Jets had to start other players at guard.
Don't be shocked if the Jets have a guard injury during the season if they use Tippmann at guard and McGovern at center. Tippmann is such a good run blocker, he could be a boon to the Jets as much at guard as center . . .
While this guy is a major longshot to make the team, recently signed defensive lineman Jalyn Holmes, flashed a little at practice today. He had QB pressures on back-to-back plays rushing up the middle.
He's your typical Ohio State defensive line recruit – a big guy who can move. A four-star recruit out of "The 757" – Norfolk, Virginia, he was a 2018 fourth-round pick of the Minnesota Vikings. He spent three years in Minnesota and has bounced around the last two years, spending a lot of time on the Chicago Bears practice squad last year. He is perhaps a tweener in some systems but could fit at a DT with the Jets at 6-5, 283. He is a strong practice squad candidate . . .
Seeing veteran tackle Duane Brown workout out on the rehab field (he's back doing that), he had nothing on his surgical shoulder. He was strictly working on cardio. You get the sense that his shoulder is fine at this point, but now it's about getting in great shape . . .
As you know by now, the Jets canceled their second joint practice against Tampa Bay. To get a sense of the Tampa Bay view of this, let's turn to long-time Bucs writer Rick Stroud who tweeted: "The NY Jets bailed on a second day of joint practices, something that apparently was agreed to in March. So the Giants graciously offered their practice field."
Robert Saleh said on Tuesday: "I never like two practices because the second practice is usually when the injuries happen. Then the second practice is when the team that knows they kind of got beat, they go into their meeting rooms and the coaches are yelling at them and then they come out and they play with a little more edge and it pisses each other off and all the melees happen, so I just think the second day is very unproductive, except for trying to be reactionary to getting your butt kicked the day before,"
Well it turns out there were myriad fights in the first practice. Did the cancellation of the second practice have anything to do with that? Who knows? . . .
August 17, 2023
Premium will return by 9:30 pm or sooner on Friday.