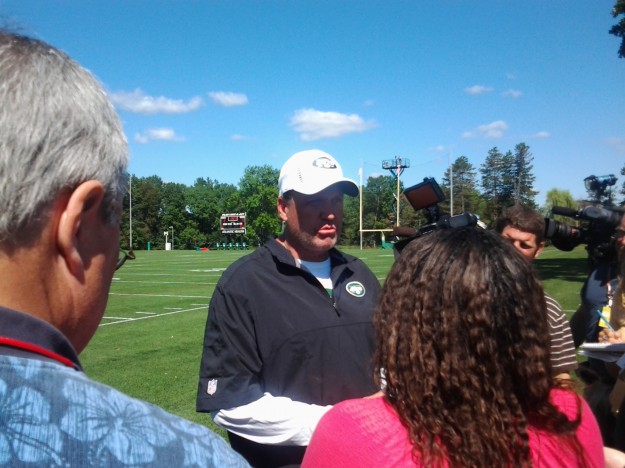 Florham Park – A lot of stuff going on at Jets camp in New Jersey, so let's take a look at some of the action . . .
While it's a cliché, you have to respect 21-year-old Stephen Hill's mindset about going to Heinz Field to face the vaunted Pittsburgh Steelers.
"Those guys put their pants on one leg as I time, just like I do," Hill said.
This is important. He doesn't seem intimidated. And based how he played in his first NFL game, he's clearly up to this NFL task.
And just like several Jets yesterday, he made it clear, he didn't want to talk anymore about what he accomplished last week.
"I'm keeping last week behind me," Hill said . . .
Speaking of receivers, the media, and people around the Jets, are still trying to figure out what Santonio Holmes meant on Wednesday, when he said in his presser, that Tony Sparano told him to "catch the ball 33 percent of the time."
A Jets spokesman was attempting to obtain clarification on this. That is what we were told yesterday, but it never happened.
That percentage seems very low for an NFL wide recever, but perhaps he was talking about something else, aside from basic receptions, but didn't communicate it very well.
There is no way around it – for whatever reason – Holmes is constantly forcing the Jets into spin control based on things he says.
Last week, it was the "rattled" comment, this week the "33 percent" comment, and there have been many others.
To say he's high maintenance, might be an understatement.
Remember, the Jets opponent on Sunday, dumped him, for a fifth round pick, to a fellow playoff AFC contender. That speaks volumes . . .
This Darrelle Revis concussion situation remains a mystery.
He repeatedly says he feels fine.
"I feel good," Revis said. "I feel I can play this week."
But Revis also said it's not up to him.
With the NFL being so strict about the handling of concussed players, there are a lot of layers to go through to be cleared. A team doctor, an outside doctor, various mental tests.
That is why it's a lot easier for the team if the player avoids the concussion diagnosis. I know that sounds insensitive, but there is some truth to this.
When the Green Bay Packers went to the Super Bowl a couple of years ago, there were rumors that that Aaron Rogers suffered a concussion against the Chicago Bears in the NFC Championship Game, but pretended he didn't, and avoided the protocol, and the potential of missing the big game.
With Revis now subjected to the NFL concussion protocol, he's probably 50-50 for Sunday.
If Revis can't go, this would be a really bad loss for the Jets.
I know that sounds like an obvious statement, but Pittsburgh has so many weapons in the passing game, they need all the cover guys possible in this game.
Kyle Wilson did have a pick last week, but he's still got some work to do to shed the "inconsistent" label.
Remember, prior to the Buffalo game, the last time we saw him was against Carolina in Week Three of the preseason, and he had issues with Brandon LaFell.
You know darn well that the Steelers will target Wilson, early and often, if he starts for Revis.
It will be interesting to see what the NFL doctors decide here. Revis seemed fine today, but I'm no doctor.
You know he desperately doesn't want to miss this game in his hometown.
September 13, 2012
(Premium will return by 9:30 pm on Friday.)
---