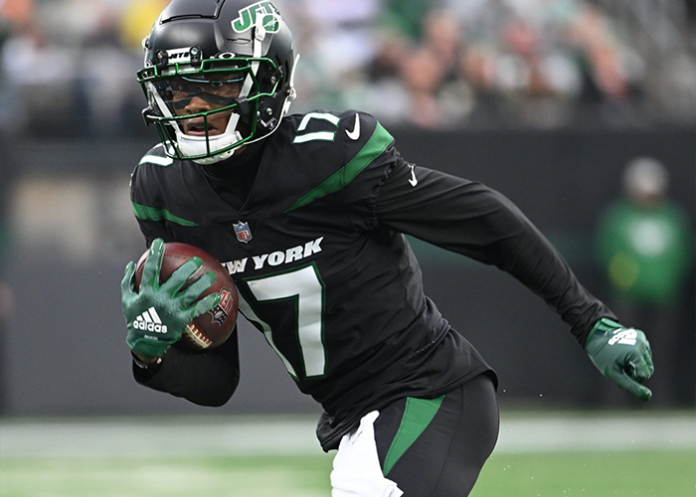 Content available exclusively for subscribers
Please subscribe now to unlock this article!
It was great coverage, but it didn't matter . . .
Aaron Rodgers rolled left, and throwing against his body, threw a deep out to Malik Taylor on the left sideline, and the pass was so perfect, that even with cornerback D.J. Reed in tight coverage, it was complete.
He's still got it . . .
Mekhi Becton has had plenty of blocks that catch your attention at camp, but it's just a matter of him getting comfortable with the new reality of his right knee, which has been surgically repaired twice.
An example of this was early in practice today in South Carolina when he had a nice block on a run off left tackle, but then after the play, was adjusting his knee brace.
"For him, it's about getting comfortable with that knee and straining himself to push through and find ways to be able to show that he can play a full game and then on a normal practice schedule, show that he can do it again," said Jets coach Robert Saleh on Thursday. "If he can do that, and that's what this whole camp is about, is to get him mentally connected to that knee, so he's got full confidence in it."
It's really intriguing watching him practice. He looks very good on a lot of plays, but he's on a strict pitch count, so you only see him on a limited basis.
Is it possible we could be seeing him in a platoon situation early in the season?
Something else I wonder is why he's not taking any reps at right tackle, just left tackle. If Duane Brown comes back soon and plays left tackle, the only position he's played in the NFL, where is Becton going to play? Shouldn't Becton take reps at right tackle so he would be ready to move there if Brown is the left tackle? Just thinking out loud . . .
Quincy Williams is a terrific player attacking, moving forward, like today when he blew up a screen pass for a loss on the right side.
But perhaps we still aren't seen enough plays dropping back into coverage covering tight ends and running backs in practice. The Jets need to see a little more in that area, but attacking, he's dynamite . . .
Tim Boyle threw a pass on the short right side to tight end Kenny Yeboah, who dropped it.
Not to make a big deal about one play, but sometimes with guys on the bubble, you need to almost be perfect, unlike anointed players, who are beyond reproach. Secondly, it's got to be challenging for players like this, that aren't thrown to a lot in practice, so it's hard to get in a groove, and sometimes you press when you get a rare throw . . .
The Jets recently picked up end Pita Taumoepenu, the XFL Defensive Player of the Year.
He has a lot of juice coming off the edge as a rusher and has gotten some pressure on QBs in the practice, but at 6-1, 245, he can get engulfed against the run . . .
Garrett Wilson returned to practice today from an ankle injury and caught a fairly deep pass down the left sideline from Rodgers.
There was nobody near him, which was surprising for a defense to leave a player of this magnitude wide open . . .
Speaking of coverage breakdowns, Zach Wilson hit a wide-open Xavier Gipson in the middle of the end zone for a touchdown. How is a player so wide-open in the middle of the end zone? Don't know who was to blame, but LB Jamien Sherwood was talking to CB Craig James after the play going over what happened.
The starting and backup defenses still have some work to do on coverage communication.
August 10, 2023
Premium will return by 9:30 pm or sooner on Friday.