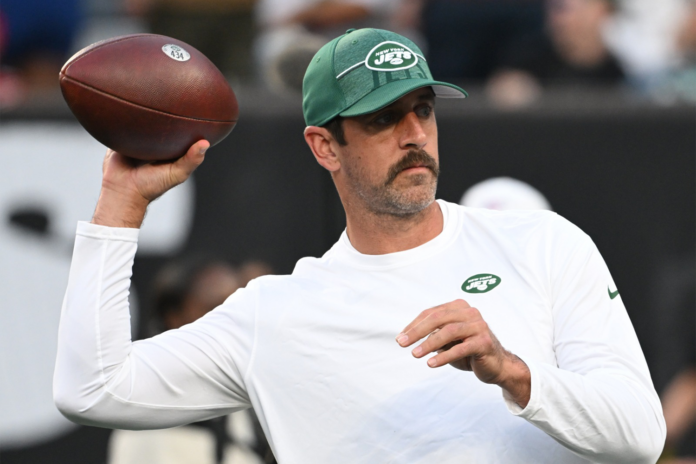 Content available exclusively for subscribers
Please subscribe now to unlock this article!
The Jets got a
slight scare in practice.
Breece Hall ran up the middle, and took a big hit from linebacker Quincy Williams (who only knows one speed), and was slow to get up, but he was fine.
Coming off a serious knee injury can be a challenge psychology for players because you just don't know what to expect when you take a big hit like this.
Williams didn't mean any harm by this hit, but it was far from ideal for a player coming off an ACL . . .
Jets had a lot of penalties in training camp practices. This is something they need to clean up . . .
Something else they need to clean up a little is the communication in the secondary.
There were three plays in the end zone, over a short stretch, that the starting secondary would want back.
First, Tony Adams was called for pass interference on a pass to Mecole Hardman on an out on the left side of the end zone. The official felt he made too much contact as the receiver was cutting to the corner of the end zone.
Then Aaron Rodgers hit receiver Alex Erickson, who likely isn't going to make the team, for a touchdown in the middle of the end zone.
Then, practice ended with Rodgers hitting Garrett Wilson on an out on the right side of the end zone. He was wide open. Sauce Gardner and Adams were the closest players to him. Not sure who to blame here, but a #1 receiver should never be left this wide open.
Still not sure how this safety situation is going to work out sans Chuck Clark. It could be very good, but it's hard to know right now . . .
After missing a few practices with a knee injury suffered against Tampa Bay last Saturday, Joe Tippmann seemed to be full go in practice today . . .
Kutztown WR Jerome Kapp had a kind of quiet last couple of weeks of camp, but it's hard to fault him for that. He hardly gets any reps . . .
The question I have about Corey Davis walking away from football is – Was he asked to take a pay cut? I'm not minimizing any family situation he might be going through, but did they ask him to take a pay cut? I would love an answer to that.
Because even if you have a family situation, some would argue that it could be helpful to the family to make $10 million this year. Once again, not judging, but many people have family matters to deal with, but still work.
So I just wonder if they asked him to take a pay cut.
I will continue to research that . . .
Undrafted rookie free agent safety Marquis Waters, out of Texas Tech, had one of the better plays in pass coverage today, breaking up a pass to Erickson in the end zone. Waters did a great job tracking the ball . . .
Jets rookie defensive end Will McDonald's elite bend was on display today when he dipped under Jeremy Ruckert on a run by Hall off left tackle.
McDonald didn't make the stop, but watching him closely on this play, his flexibility is elite. Think of it like when you are in a limbo contest at a beach resort. How low can you go? McDonald's helmet was near the grass since he dipped so low under Ruckert here. That kind of "bendability" coming off the edge is very helpful in pass-rushing, and not everybody can do it. McDonald is very good at it.
August 24, 2023
Premium will return by 9:30 pm on Friday.