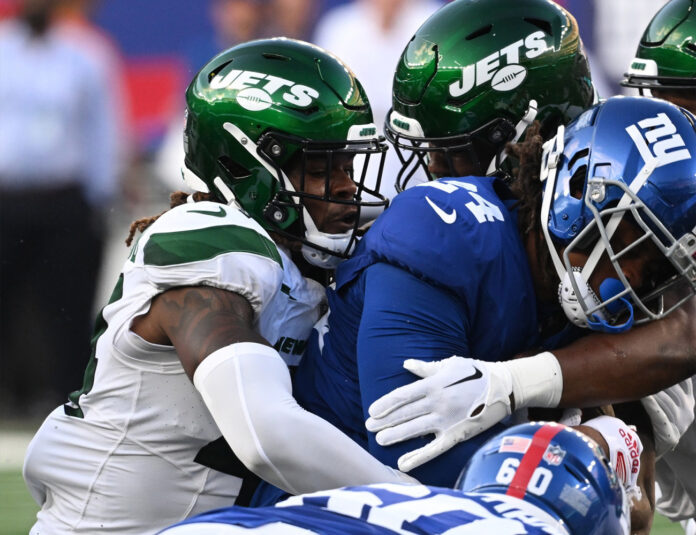 Content available exclusively for subscribers
Please subscribe now to unlock this article!
Enough boom mics . . .
Time to "Just win baby" as Al Davis liked to say.
I didn't watch "Hard Knocks" and don't intend to.
It has nothing to do with winning, in fact, some would argue it can hurt you a little on this front because of the distractions it causes.
I cover the New York Jets football team. I don't cover reality shows.
And now, thanks to that show, two Jets rivals are pissed at them and will have an extra chip on their shoulder entering contests with Gang Green.
First Jets defensive coordinator Jeff Ulbrich said in a private meeting with his defense:
"It's the mantra of our defense: Make a motherf***er earn every yard," Ulbrich said in the meeting. "Do my job, is that good enough? F*** no. That's the rest of the NFL, isn't it? 'Do your job. Do your job.' F*** that. Do your job, then now what? If we all do our job and a f***ing little bit more, that's 22 (players) playing."
Boston Herald headline – "Jets coach mocked Patriots 'Do your job' mantra on 'Hard Knocks.'"
If you don't think Bill Belichick is going to use this, before the Jets play New England on September 24, you are kidding yourself.
ESPN Headline – "Giants' Jihad Ward miffed by 'Hard Knocks' portrayal of Aaron Rodgers interaction."
In the Jets-Giants preseason game, Jets wide receiver Randall Cobb was flagged for an illegal blindside block on Giants Bobby McCain that left the safety concussed. "Hard Knocks" showed the Jets players laughing in the huddle after their quarterback called out Cobb for the play.
"Everybody going to get pissed off at that. The whole team was pissed off, you know what I'm saying?" Ward said. "It's preseason and all that stuff and you're going to do some reaction like that? It's cool, though. That's how they roll. I think we play them soon, it is what it is."
The Jets play the Giants on October 29. This "Hard Knocks" scene, which some Giants thought made light of a player getting concussed, will likely be bulletin board fodder.
This is what happens when the NFL forces cameras into your meetings and huddles.
Now, you can avoid some of this kind of stuff that pisses off opponents by not allowing these kinds of scenes to end up on the show. Yes, you are forced to do the show by the league, but you can tell the show what to leave out. We saw that when the Jets told HBO that scenes of players getting cut would not be allowed on the show.
It's hard enough to win in the NFL, so why give your opponents extra motivation?
Makes no sense.
To quote Elvis, it's time for "A little less conversation, a little more action."
While I didn't watch "Hard Knocks," every time I Googled the Jets recently, half the stuff that popped up seemed to be about that show.
It's time for all the Jets' focus to be on how to win on Sundays.
And insulting opponents, because a reality show leaked private conversations from meetings and huddles, doesn't help you win on Sundays.
August 31, 2023
Premium will return by 9:30 pm on Friday.