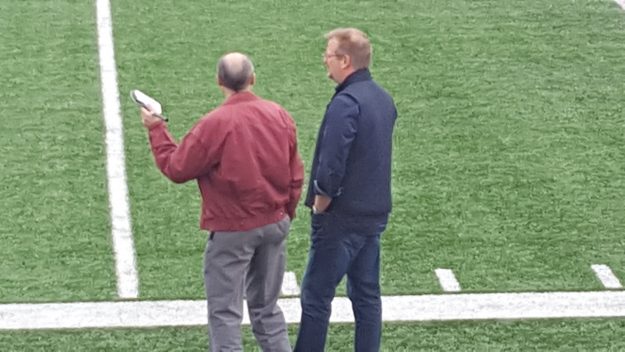 Here is how NFLDRAFTSCOUT.COM ranks the Top 32 players in the draft as of February 28:
First number is overall rank; second is position rank . . .
1/1. *Myles Garrett, DE, Texas AM, 6-4, 268, 4.57, 1
DB — The presumptive No. 1 overall pick, Garrett is a fantastic athlete with an NFL frame, but how much weight is he carrying? And how long are his arms?
2/1. Jonathan Allen, DT, Alabama, 6-3, 291, 4.82, 1
3/2. *Solomon Thomas, DE, Stanford, 6-2, 275, 4.84, 1
DB — A projected top-10 pick, Thomas is going to drop some jaws with his workouts, according to a Stanford assistant coach. At 6-foot-2 and 270 pounds, he has some tweener traits, but with his blend of speed, burst and power, coaches and scouts will bang the table to add him to the defensive line rotation.
4/1. *Malik Hooker, FS, Ohio State, 6-2, 205, 4.47, 1
DB — Hooker isn't expected to work out prior to the draft due to recent hernia and labrum surgeries. How is his rehab? Will he be 100 percent for training camp? Two key questions that need answered before a team invests a top-10 pick on the talented Buckeyes safety.
5/1. *Dalvin Cook, RB, Florida State, 5-11, 206, 4.43, 1
DB — Dating back to high school, Cook has undergone three shoulder surgeries, and the long-term effects of those injuries are the only road-block keeping him from landing in round one.
6/1. *Jamal Adams, SS, LSU, 6-0, 211, 4.54, 1
7/1. Reuben Foster, ILB, Alabama, 6-1, 236, 4.72, 1
DB — With his violent playing demeanor, Foster is bound to have bumps and bruises lingering from the 2016 season. He has a history of shoulder stingers, he sustained a concussion last October, and he recently underwent right rotator cuff surgery.
8/1. *Mike Williams, WR, Clemson, 6-3, 225, 4.50, 1
DB — No one expects the talented Clemson wideout to run a 4.3 40-yard dash. But is Williams a 4.52 athlete? Or more of a 4.58 athlete? With Western Michigan's Corey Davis unable to work out due to an ankle injury, Williams has the stage to prove why he should be the first wide receiver drafted.
9/2. *Leonard Fournette, RB, LSU, 6-1, 230, 4.45, 1
DB — Fournette missed five games in 2016 and parts of others due to a re-occurring issue with ligaments in his left ankle. Teams are crossing their collective fingers that there isn't any permanent damage.
10/1. *Marshon Lattimore, CB, Ohio State, 6-0, 195, 4.47, 1
DB — Although he stayed healthy in 2016, Lattimore struggled to stay on the field his first two seasons in Columbus due to a history of chronic hamstring issues, dating back to his high school days. Doctors will need to sign off on his medicals before a team uses a top-10 pick on him, which is where Lattimore's talent belongs.
11/1. O.J. Howard, TE, Alabama, 6-6, 249, 4.57, 1
12/1. *Mitch Trubisky, QB, North Carolina, 6-3, 220, 4.74, 1
DB — Listed at 6-foot-3, Trubisky might not reach that mark during official measurements, but as long as he comes in over 6-foot-2, NFL teams will be satisfied.
13/2. *Jabrill Peppers, SS, Michigan, 6-0, 205, 4.52, 1
14/1. *Ryan Ramczyk, OT, Wisconsin, 6-5, 314, 5.29, 1
DB — Ramczyk is the best offensive line prospect in the 2017 NFL Draft class, but he is recovering from hip surgery. The medical reports will be crucial to him landing in the top 20.
15/2. *Teez Tabor, CB, Florida, 6-0, 201, 4.50, 1
DB — A brash player on the field, Tabor has the cocky attitude that will sometimes extend off the field as well, rubbing some the wrong way. And those immature tendencies led to multiple suspensions while he was at Florida.
16/2. Corey Davis, WR, Western Michigan, 6-3, 213, 4.48, 1
DB — Unfortunately, teams won't have the opportunity to see Davis run at the Combine due to recent ankle surgery. The issue has been described as minor, but the medical information still will be crucial to his evaluation.
17/3. *Derek Barnett, DE, Tennessee, 6-3, 265, 4.76, 1
18/1. *Zach Cunningham, OLB, Vanderbilt, 6-3, 230, 4.74, 1
19/3. *John Ross, WR, Washington, 5-11, 190, 4.35, 1
RR — No list of players to watch at the Combine this year is complete without Ross, who is expected to prove among the fastest players in Indianapolis but comes with a lengthy history of serious injuries that will make him just as popular with teams' medical personnel as their scouts. The speedster caught 17 touchdown passes last season and has four kick returns for scores over his career.
DB — A candidate to run the fastest 40-yard dash in Indy, Ross has speed to burn. However, the most important step for him at the Combine is the medicals. Since the 2014 season, he has had surgeries on both knees and plans to have another operation in March to repair a torn labrum. The medicals, not the 40-yard dash, likely will determine whether Ross lands in round one.
20/2. *DeShone Kizer, QB, Notre Dame, 6-4, 230, 4.76, 1
DB — Several NFL teams should have Kizer as the No. 1 quarterback on their board. But there will be important questions for him to answer during meetings, including why the Irish managed only four wins in 2016. NFL teams have seen the tape and will have their own opinions, but they will want to hear Kizer's opinion.
21/3. *Marlon Humphrey, CB, Alabama, 6-1, 196, 4.49, 1
DB — A physically impressive corner, Humphrey could be a big winner if he comes in at over 6-foot-1, 200 pounds and 33-inch arms. According to early snooping by NFLDraftScout.com, Humphrey measured 6-feet and 5/8 inches tall.
22/2. *Malik McDowell, DT, Michigan State, 6-5, 276, 4.89, 1
RR — Like Bolles, there is no denying McDowell's raw talent. His combination of size, power and burst warrant top 10 consideration, though he recorded "just" seven tackles for loss (including 1.5 sacks) in 2016 before entering the draft. McDowell flashed rather than flourished throughout much of his career at East Lansing, however. An impressive workout and passion during interviews may be able to convince scouts that he is maturing and ready to turn his potential into production.
DB — Based strictly on talent, McDowell belongs in the top five overall of the 2017 draft class. But his football makeup is a concern, and teams will want to know why he appeared to shut things down once Michigan State's season went south in 2016.
23/4. *Sidney Jones, CB, Washington, 6-0, 181, 4.49, 1
DB — A lean-framed corner, Jones was pushed around by physical receivers on tape, especially in press. He arrived at Washington under 170 pounds and played this season around 180 pounds. Scouts are hoping to see him reach 190 pounds at the Combine.
24/3. *Christian McCaffrey, RB, Stanford, 6-0, 202, 4.48, 1
DB — Regardless of his playing weight, McCaffrey will be more of a versatile weapon than true workhorse at the NFL level. But is he closer to 215 pounds or 200 pounds? A physical build would help teams feel confident in his durability.
25/2. *Cam Robinson, OT, Alabama, 6-6, 310, 5.28, 1
DB — Although the district attorney decided not to purse prosecution, Robinson still will need to answer for an incident last May in which he was arrested and charged with possession of marijuana and a stolen gun.
26/2. Takkarist McKinley, OLB, UCLA, 6-2, 258, 4.58, 1
DB — With McKinley's current shoulder issue, medicals will be crucial to his draft grade. But his workouts at Lucas Oil Stadium will take the focus off his injury and allow everyone to appreciate his impressive athleticism. McKinley, who ran a 10.71 in the 100 meters as a 235-pounder in high school, might break the 4.5 mark in the 40-yard dash at 250 pounds.
27/3. Tim Williams, OLB, Alabama, 6-3, 252, 4.76, 1
DB — Labeled as potentially another Randy Gregory situation, Williams needs to ace interviews and quell the notion that marijuana and other activities are more important to him than football if he wants to land in round one.
28/4. Taco Charlton, DE, Michigan, 6-5, 272, 4.87, 1
29/3. *Deshaun Watson, QB, Clemson, 6-2, 215, 4.64, 1-2
DB — A lean-muscled athlete, Watson doesn't have ideal body armor for the position, and scouts are interested to see if he comes in over or under 215 pounds. And if under — how much bulk can he add? Is his body maxed out?
30/2. *David Njoku, TE, Miami (FL), 6-4, 240, 4.53, 1-2
DB — A national champion high jumper in high school, Njoku has freakish athleticism and could leave Indianapolis as one of the big winners. He shows impressive speed, agility and burst on film, but producing the numbers to match could give him the edge over O.J. Howard as the draft's top tight end for some teams.
31/4. Haason Reddick, OLB, Temple, 6-1, 237, 4.54, 1-2
DB — After his Senior Bowl performance, the secret of Haason Reddick is already out. But that doesn't mean he can't help himself even more with his athletic testing. A former defensive back, Reddick is an explosive mover with the fluidity that will impress in Indianapolis.
32/5. *Charles Harris, DE, Missouri, 6-3, 255, 4.74, 1-2
---