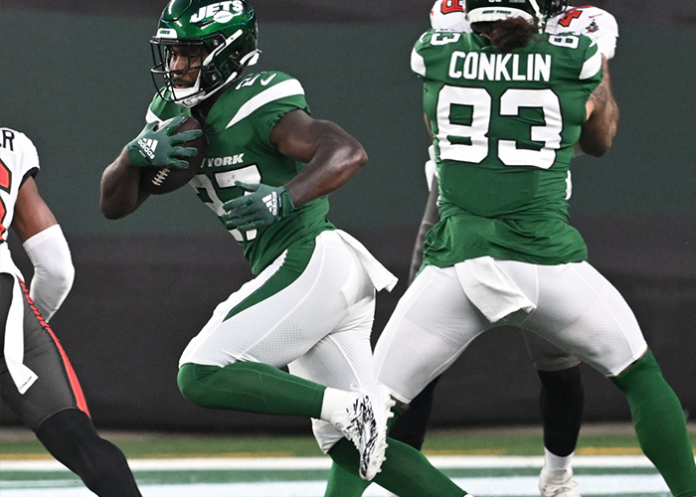 Content available exclusively for subscribers
Please subscribe now to unlock this article!
Some practice notes from today . . .
This is exactly what the New York Jets need more of from the player.
We know Jets linebacker Quincy Williams is excellent against the run.
However, they need a little more from him against the pass.
And he made a play today which was the perfect example of what they need more of.
QB Aaron Rodgers threw a deep out to tight end Tyler Conklin, and Williams broke up the pass.
This was really good coverage, something you'd expect for a highly-athletic linebacker who runs under 4.6 . . .
Zach Wilson had a nice deep out to rookie tight end Zach Kuntz.
You have to wonder what the Jets are going to do with Kuntz.
At tight end, they have Conklin, C.J. Uzomah, Jeremy Ruckert and Kenny Yaboah. It's hard seeing them keep five tight ends, especially with how much they like fullback Nick Bawden, who is kind of like an H-Back in some ways.
But is Kuntz safe on the practice squad?
Hard to say, even though he needs some work on his blocking, 6-7, 255 pounds tight ends who run 4.55 are rare . . .
Speaking about Bawden and his value to the Jets, he had a great block on linebacker Zaire Barnes, opening up a nice whole for Breece Hall on a run off right guard . . .
Today was the first practice after Jets coach Robert Saleh named Mekhi Becton the team's starting right tackle.
He can be an absolute beast as a run blocker on the right side, and you saw that today, with two nice run blocks, one on defensive end Jalyn Holmes and another on linebacker Pita Taumoepenu, both opening big holes on the right side. Once Becton gets his mitts on you, it's pretty much over . . .
Massive nose tackle Al Woods continues to show in practice how he's going to help the Jets run defense in games. Today, he beat an interior lineman into a gap and stopped running back Travis Dye for what would have been a loss, if there was tackling.
Woods former Seahawks teammate Quinton Jefferson will also help,  and he had another nice play, shooting into the backfield and blowing up a run play . . .
While Rodgers has great chemistry with WR Allen Lazard, it might be even better with another former Green Bay Packers teammate, WR Randall Cobb.
Watching practice all summer, it just seems like Rodgers and Cobb truly think as one, and had a couple more nice connections today . . .
It's pretty clear Jets guard Laken Tomlinson still isn't healthy. He did return to practice today, but after play, he was very slow to get up, and was on his knee for a bit . . .
Aaron Rodgers had a bad pass today, where he sailed a pass over the head of Uzomah on a square out.
I know I often poo-poo practice stuff, but this was a bad throw . . .
Linebacker Chazz Surratt was back in practice today. We haven't seen him since the Jets' first preseason game when he got hurt. He was excellent in that game . . .
August 22, 2023