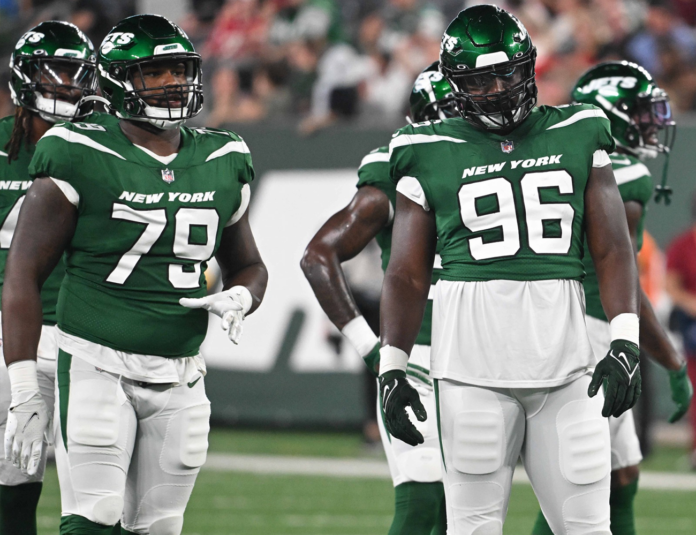 Content available exclusively for subscribers
Please subscribe now to unlock this article!
Florham Park – Aaron Rodgers . . .
had two impressive completions to Garrett Wilson on go routes down the sideline. And each play, the coverage wasn't bad, but the ball was placed in the perfect place, and Wilson made nice grabs.
Two big-time throws and big-time catches.
Plays like this make you wonder why the heck would the Packers trade somebody with his kind of talent . . .
One key to throws like these, aside from Rodgers' arm talent, is how early he releases the ball.
One of the issues with some of the younger quarterbacks is waiting too long on these kind of routes.
Rodgers throws with great anticipation, a must to be an elite QB in the NFL . . .
WR Jerome Kapp looks like he might be more than just a feel-good training camp story. Now we need to see him in preseason games, but in the OTAs and early in camp, the former Kutztown star has consistently made plays, and today he made one of the better catches in practice on a contested pass on the right side of the end zone. If I'm not mistaken (the play was far from where the media was), the cornerback covering him was wearing the same number as Kapp, #31. This shows you what a long shot Kapp is, he has to share a uniform number with a defender.
So far he's shown the ability to consistently get open and displayed very confident hands.
And he has a great work ethic. He stayed after practice to work with veteran receiver Corey Davis to get some tutoring . . .
Speaking of your promising receivers, that brings us to Irv Charles. He had a nice extension grab in traffic from Chris Streveler today.
People talk about how additions like Allen Lazard, Mecole Hardman and Randall Cobb made Denzel Mims (traded to Detroit) expendable, but I think Charles was a factor as well. He's a big receiver (6-4, 219), like Mims, but is better on contested passes. Mims was good high-pointing the ball, but not great winning contested passes. There is a difference.
Charles' college is listed as Indiana University of PA, but it's best to view him as a Penn State receiver, where he originally went. He signed Penn State as a four-star recruit out of South Jersey, and for some reason, things didn't work out with the Nittany Lions, and he finished up at IUP.
This guy has a lot of talent, and Rodgers has taken a liking to him.
It's going to be hard for him to get a lot of playing time with the Jets loaded at receiver, but don't rule Charles having a little to do with the trade of Mims. This guy has a lot of talent . . .
DT Solomon Thomas had a couple of QB pressures in today's practice. It seems like what the plan might be for the Jets is to have 340-pound Al Woods play on obvious running plays, and for Thomas to spell him on clear pass-rushing situations. Now, of course, the Jets platoon a lot anyway, so what I'm talking about is the base defense to start a game or half . . .
While he's like a practice squad candidate, undrafted free agent running back Travis Dye (USC) has looked good in the passing game. He has very soft hands and is good at making people miss after he catches the ball . . .
Jets defensive end Jermaine Johnson has switched his number to #11, and in order to do that, he needed to switch his position to linebacker.
But he's not a linebacker.
He's a defensive end.
Make the main thing the main thing.
Nothing against the player. He seems like a wonderful guy, but the Jets need more from him this year,
In fact, they could use him to match his new uniform number in sacks . . .
Powerful quote from Robert Saleh about Mekhi Becton:
"He just has to learn to trust his (right) knee and find a way to get comfortable with it."
July 25, 2023
Premium will return by 9:30 pm on Wednesday.