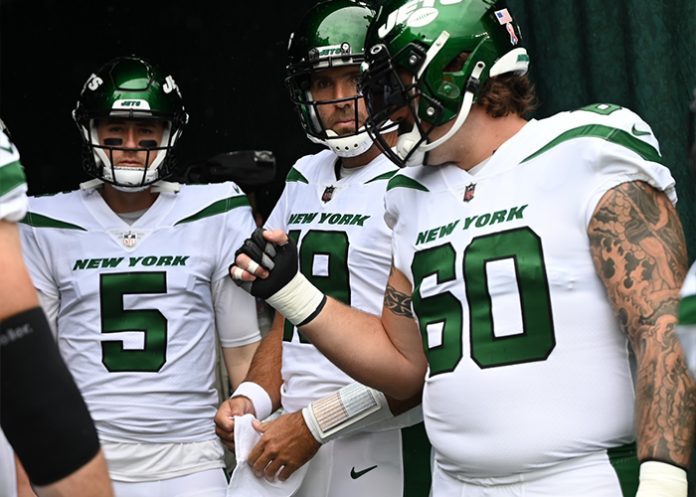 Content available exclusively for subscribers
Please subscribe now to unlock this article!
Before the Jets flew off to . . .
Charlotte today, to practice with the Carolina Panthers on Wednesday and Thursday, they had a full practice.
And Aaron Rodgers had a little bit of an off-day today.
But you know, an off day for him is still better than most other quarterbacks.
In a short stretch, he threw behind Tyler Conklin on a crossing route that was broken up by cornerback D.J. Reed, and then had a pass tipped at the line that was picked off by linebacker Zaire Barnes.
But even in a practice that wasn't his best, he still did plenty of good things, like on a crossing route to Corey Davis, that the receiver took in for a touchdown and a TD pass in the middle of the end zone to WR Randall Cobb.
And sometimes on these passes that go awry, there are chemistry experiments going on, where he's trying some things with guys he's still getting used to, like on a deep out to C.J. Uzomah, that sailed over the tight ends head and was picked by CB Jimmy Moreland. Maybe Rodgers is still getting used to Uzomah's speed, and thought he could get to this pass. He will have a better feel for how to throw this moving forward . . .
The Jets signed two defensive linemen on Monday, and they both practiced today. They are DE Pita Taumoepenu and DT Bruce Hector. Both players played in the XFL in 2023.
On the last play of practice, Hector had a QB pressure beating a guard to harass Tim Boyle. Before signing in the XFL. Taumoepenu bounced around the NFL, including playing in San Francisco under then DC Robert Saleh in 2017-18, so he's familiar with Saleh's scheme . . .
Alijah Vera-Tucker is back to his old form after landing on IR last year with a torn pec.
He's getting a lot of push in the run game, and watching him in camp, you can see why the Jets' run game slipped without him last year.
In a battle of titans today, he get the better of Quinnen Williams, opening a big hole off right guard for a nice gain by Bam Knight . . .
On a screen pass today to Uzomah, center Connor McGovern got way out front to lead the way for the tight end.
Reading the tea leaves early in camp, there really doesn't seem to be a center competition between McGovern and Joe Tippmann.
It would be shocking if Tippmann started over McGovern in Week 1.
While Tippmann is a terrific prospect, do you really think Rodgers wants a rookie center to start the season?
No doubt Tippmann will start at some point, but it's probably not right out of the gate . . .
I don't know if this means anything, but I haven't seen Duane Brown on the rehab field at the last few practices.
Early in camp, he was doing conditioning on that field during practice, but not the last few practices.
This might not mean anything, Maybe he's doing all his work inside, but just telling you what I saw, or it was different than earlier in camp.
Brown is coming off off-season shoulder surgery.
August 7, 2023
Premium will return by 9:30 pm or sooner on Wednesday from Spartanburg, SC.