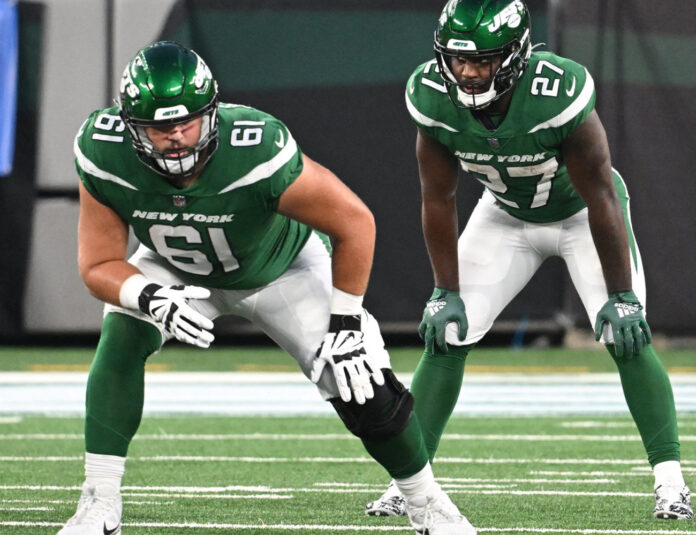 Content available exclusively for subscribers
Please subscribe now to unlock this article!
The Jets got a scare when Aaron Rodgers went to the ground after John Franklin Myers got to him on a passing play. I can't say exactly what happened because I was looking downfield where the pass was picked off by Jordan Whitehead, but after the play, I saw Franklin-Myers and Rodgers getting untangled coming off the ground. Rodgers got up slowly and walked gingerly after the play. This could have been a disaster.
The offensive tackle play continues to be inconsistent, and while you aren't supposed to touch the QB in training camp practices, once in a while, a player can't stop and runs into the QB.
I think one of the problems with the tackle play is something I've written about before – the constant shuffling of Max Mitchell and Billy Turner between right and left tackle. I understand that position versatility is important, but as we know, it's very challenging to move from right to left tackle and vice versa. Everything is reversed – hand placement, footwork and so forth. It's like being a righty and trying to right lefty, and vice versa.
Remember what Turner said the other day: "Everything is an adjustment. It's like wiping your (butt) with your off-hand. From your feet to your hips to your hand to your head, everything is completely different. Everything is the complete opposite. The game is different from right to left, it's the same technique, you just gotta figure out how to work things out in your brain."
Every few days, they have Turner and Mitchell switch sides. After being at right tackle in Spartanburg, Mitchell was back at left tackle today in Florham Park, with Turner going to the other side.
And to me, this is one of the reasons why the starting tackle play has been inconsistent. I think Keith Carter is a heck of a line coach, one of the best in the business, and I'm not even sure this is his idea, but to me, this isn't a great idea, especially for the younger Mitchell, who is still learning the why's and wherefores of being an NFL offensive tackle.
Rodgers seems to be getting a little frustrated with the practice protection, and after the play he got hit, an assistant coach made it clear to the line they needed to step up.
Obviously, if he stays healthy, Mekhi Becton is going to move into the lineup soon, but in the meantime, the tackle play in practices continues to be up and down, and Rodgers and the first-team offense didn't have a great day on Tuesday passing the ball . . .
Early in practice, Quinnen Williams beat guard Wes Schweitzer for a QB pressure on Aaron Rodgers.
This isn't meant to be disrespectful to Schweitzer has been a good NFL player with Atlanta and Washington, but when Williams faces a guard with limited athleticism, it's usually game, set match . . .
Stiff competition can be like a faith healer for players.
Saw a rookie linebacker tweak his knee, and get it wrapped, and he was back out there.
Let's be honest, you get hurt, you could end up on waivers pretty fast, or lose some ground in a position battle.
Now Mitchell is at no risk to get cut, but he's in a competition for playing time or the backup swing tackle job.
Today, he seemed to hurt his left low back on a play he was pulling on the second level. He had to come out for a few plays, but he was back pretty quickly.
This is a cutthroat business, and if you are a longshot like that linebacker mentioned here, and you miss time, you could end up very quickly on the waiver wire . . .
Speaking of young players worried about getting waived if they get hurt, it kind of says something about how the Jets value rookie free agent linebacker Claudin Cherelus out of Alcorn State (via UMass). He missed several days of practice after the Cleveland preseason game due to an injury, but the Jets kept him around, and let him make his way back, with no injury settlement.
That kind of tells you they like what they saw in Canton. He played very well against the Browns, and looks like, at the very least, a special team tackling machine.
August 15, 2023
Premium will return by 9:30 pm on Wednesday.