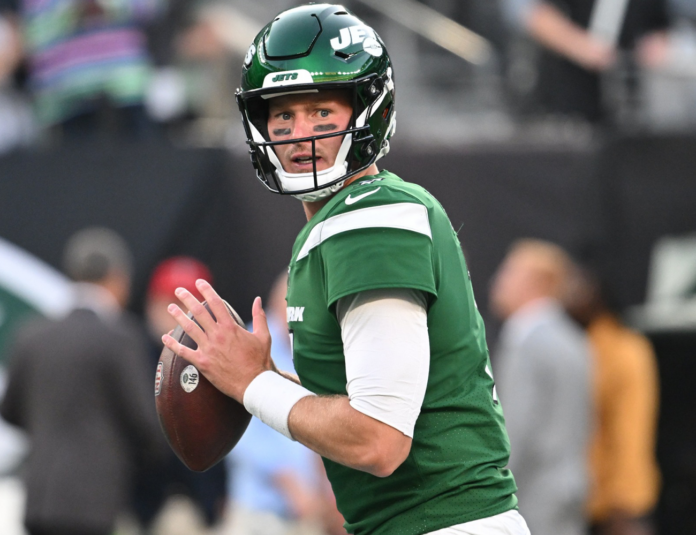 Content available exclusively for subscribers
Please subscribe now to unlock this article!
There is a reason . . .
I ran this poll on Twitter:
Who should be the Jets' #2 QB?
The choices in the poll were – 1)Zach Wilson, 2) Tim Boyle 3)Chris Streveler.
Some people would say a poll like that is stupid. Of course, Zach Wilson should be the #2 behind Aaron Rodgers. After all, he was picked second overall in the 2021 draft.
But keep in mind, I don't live in a world of confirmation bias.
As Bill Parcells always said, "I go by what I see fellas."
Wilson has not been better than Boyle and Streveler.
In fact, I think Boyle and Streveler have been more decisive in their decision-making.
Wilson had another nice scramble today. He's had a few of those. What good those do on passing plays in camp? I'm not sure. Some consider these wasted reps for receivers and coverage defenders.
I also saw him throw at the feet of 6-8 tight end Zack Kuntz in the left flat today, and has sailed too many passes over the heads of targets in camp.
Of course he's had some nice throws as well, but too many suspect plays mixed in.
Not sure how much the mechanics and footwork have been fixed just yet with passes like the one to Kuntz, and the ones that have sailed over targets heads.
Let's see what Wilson does in the preseason games, but I don't own any anointing oil, so to me, it's wide open in terms of who should be the #2 right now.
I know it's not, but I'm just going by what I see.
Personally, I'd let Rodgers decide who his backup should be. I'm dead serious. Let somebody coming from outside, who is a QB genius, help make that decision . . .
PR guru Matt Hiltzik, a Jets consultant, was at the press conferences today. Perhaps he was there to offer some tips to Nathaniel Hackett, who addressed the media today for the first time since getting blindsided by Sean Payton, who threw him under the bus for Russell Wilson's bad season last year. Hiltzik is a damage control expert, who has worked for a who's who over the years including Justin Bieber and Johnny Depp.
Maybe Payton should hire him . . .
The Jets are going to have some difficult cuts at receiver this year.
A guy who had been flying on the radar up until today, because he wasn't getting a ton of reps, is Malik Taylor. It's interesting, the Jets signed Taylor, a Aaron Rodgers teammate in Green Bay from 2019-22, on December 22, 2022, way before they traded for the legendary QB.
And now they are reunited, and Taylor looked very good today, finally getting some reps, including a nice connection with Rodgers on a crossing route . . .
Right tackle Max Mitchell had a little bit of an uneven practice today, giving up pressures to both Bryce Huff and Jermaine Johnson.
Here is something I don't get:
Why is Mitchell getting all these starting reps at right tackle, and Mekhi Becton hasn't gotten any?
Here is why I ask:
If Duane Brown comes off PUP, he's going to be playing left tackle, so Becton would have to play right tackle, which was the plan last year before he got hurt. So if that's the case, why not get him a ton of reps at right tackle, including some with the starting unit? It's not like he's played there a lot.
Not sure what is going on here.
But the bottom line is if Becton is perhaps going to play right tackle, he needs to get as many reps as possible over there. Playing him with the second team as a left tackle isn't going to help him get acclimated to the right side.
Just thinking out loud here . . .
August 1, 2023
Premium will return by 9:30 pm or sooner on Wednesday.