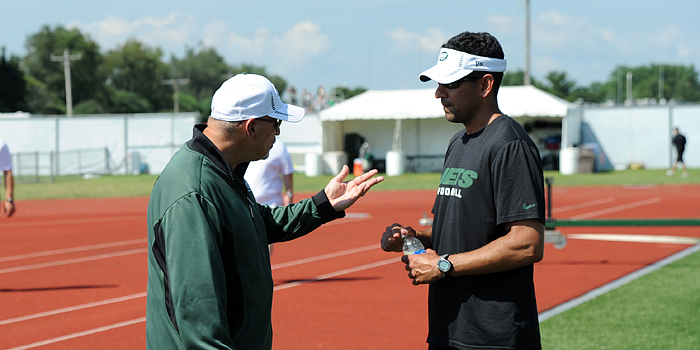 Content available exclusively for subscribers
Please subscribe now to unlock this article!
Cortland – Tony Sparano didn't seem very happy after this morning's practice. We get into this, and a bunch of other tidbits, in today's edition of Website Whispers . . .
After practice, Tony Sparano and WR coach Sanjay Lal were having an animated conversation. Tony raised his voice a few times. I'm not going to pretend to know what they were discussing, but it went on for some time. The picture above was from that conversation.
Whatever it was, Tony didn't seem very happy . . .
The way Rex answered the question about the #2 blocking tight end position, it almost seems like the guy isn't in the building yet.
Two players to keep an eye on down are in Miami – Will Yeatman and Jeron Mastrud. Yeatman, who is 6-5, 268, and Mastrud who is 6-6, 253, are two guys who played for Tony in Miami last year. Tony always compiled these kind of massive blocking tight ends in Miami.
If one of these guys gets cut (the Dolphins picked a tight end high in the draft – Michael Egnew, and have Tony Fasano), the Jets might jump on one of them.
They know what Tony wants.
I'm not saying Jeff Cumberland is going anywhere, but Tony and Rex might want to add a pure blocking tight end to compliment Keller and Cumberland.
Josh Baker is getting a lot of work at fullback.
And Remember, both Ben Hartsock and Matthew Mulligan were acquired late in camp, so the Jets have a recent history of adding a blocking tight end late in the summer . . .d
The crowds in Cortland have been average. I think a lot of us expected huge crowds for Tebow, but there really haven't been bigger crowds than the Jets last summer in Cortland, in 2010.
I think one problem is the set-up.
There aren't enough bleachers, so most people have to stand for three hours, and try to see over all the people standing on the sidlines in front of them.
The Jets and Cortland need to get together and rent some more bleachers in the future.
Saturday's scrimmage should have a huge crowd. The Jets and the SUNY Cortland folks did the right thing moving it to the stadium, so more people can sit and enjoy the proceedings. The Cortland stadium holds 6.500 people . . .
I respectfully disagree with the premise of Manish's question to Rex Ryan today (the first of the press conference.)
He basically asked, "What does it say about Mark Sanchez that he's willing to come out of the game in the red zone, after a leading a long drive, for Tim Tebow?"
What does it say? It says he's does what he coaches tell him to do. He makes a lot of money ($20.5 million guaranteed over the next two years).
Are we supposed to make him a hero because he's willing to come out of the game for Tebow and the Wildcat? What is he going to do, refuse to come out of the game, and stage a sit-in on the field.
He's an employee. Rex and Tony are his bosses. He does what he's told.
What a bizarre premise, that it's a feather in his cap, that he 'agrees" to go along with this . . .
Ellis Lankster had the most impressive defensed pass in the morning practice, breaking up a throw over the middle to Dustin Keller. What was so impressive about this play was Lankster's physicality in jostling the ball away. Keller is a powerfully built 6-2, 250, and Lankster is 5-9, 191. And Lankster slammed the tight end so hard, the ball came out.
The Jets secondary could be special this year.
I know I have been rough on Kyle Wilson at times, but he does look improved this summer. The signing of Lankster from the CFL has turned out very well, and obviously Cro and Revis are excellent corners.
The safety position seems solid with LaRon Landry, Eric Smith, Yeremiah Bell and seventh round steal (and it could be a major one) Antonio Allen.
There were a few plays today where Mark Sanchez had plenty of time to throw, but nobody was open due to excellent coverage . . .
August 2, 2012
(Premium will return by 3 pm on Friday.)