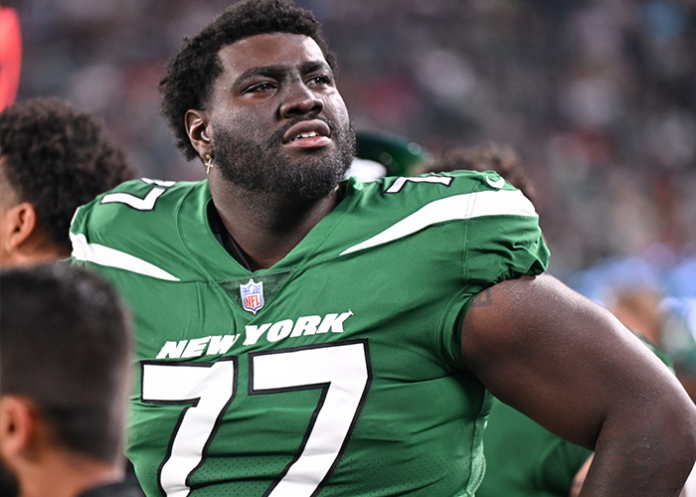 Content available exclusively for subscribers
Please subscribe now to unlock this article!
Hard to tell . . .
if this was done on purpose, or it was just a rotation thing, but Will McDonald beat reserve right tackle, Grant Hermanns, who just arrived a few days ago, on back-to-back plays today for QB pressures.
This was obviously a mismatch.
The strange thing was, unless I missed it, McDonald didn't seem to go against starting right tackle Mekhi Becton today.
Maybe this was by design, or it just worked out that way, but with a 100-pound weight difference, perhaps it's not best to put McDonald and Becton against each other a lot. This could be a little dangerous for McDonald . . .
Becton got a lot of reps today in practice, perhaps the most in training camp. I don't do stats, but it just seemed like the most. Now that he's been named the starting right tackle, it looks like he is off the pitch count he was on throughout most of camp.
Becton had a nice block on a run by Bam Knight off right tackle, locking up end/linebacker Pita Taumoepenu.
To give Taumoepenu credit in this matchup, he did beat Becton for a QB pressure on Rodgers on another player.
Taumoepenu, from Tonga, has a lot of juice as a pass rusher . ..
An offensive lineman who has really come on this summer is Adam Pankey, who was on the Jets' practice squad last year. He is a former teammate of Rodgers in Green Bay.
He had a pancake block today on defensive tackle Diontae Spencer on a run by Bam Knight off left tackle.
Pankey, who can play guard and tackle, and has played both this summer, looks like a guy who belongs in the league . . .
QB Tim Boyle hit tight end Zach Kuntz on a deep crossing route for a long gain.
QB Zach Wilson also hit Kuntz on a bootleg right.
Once again, like we wrote yesterday, not sure what the Jets do with Kuntz on the final cutdown. Yes, he needs some work on his blocking, but he's such an imposing target in the passing game at 6-7, 255 with good speed . . .
Max Mitchell is a tough kid. He plays through stuff all the time. Now he's playing with a knee brace on his left leg and a compression sleeve on his right leg . . .
Corey Davis announced on Instagram he's "stepping away" from football. Does that mean retirement? He didn't say he's retiring, he said he was "stepping away."
I have no idea if he's retiring. We will see if he files the retirement paperwork with the league office.
I'm not judging the player, who is a really good guy, just wondering about the semantics here.
Personally, I can't write he's retiring, because he didn't say that. Maybe that is exactly what it is, but he didn't say that . . .
Rodgers was on fire today.
There were two cases where he "threw guys open" with picture-perfect passes. "Throwing guys open" is when somebody is covered pretty well but you throw it to a spot, and give him a chance for the catch.
First he threw a dime down the left sideline to Randall Cobb, with D.J. Reed in tight coverage. He basically threw it the only place he could, toward the sideline, with the cornerback on the inside. It was an amazing throw. Cobb could not come down with it.
He also threw to Allen Lazard in the end zone, with Sauce Gardner in tight coverage, and Lazard caught it for a TD. It was a great play by the QB and receiver.
These are the kind of throws young QBs are sometimes are afraid to throw because it doesn't look like the receiver is open.
One should have been a big play, and the other was, thanks to Rodgers' pinpoint accuracy.
August 23, 2023
Premium will return by 9:30 p.m. or sooner on Thursday.