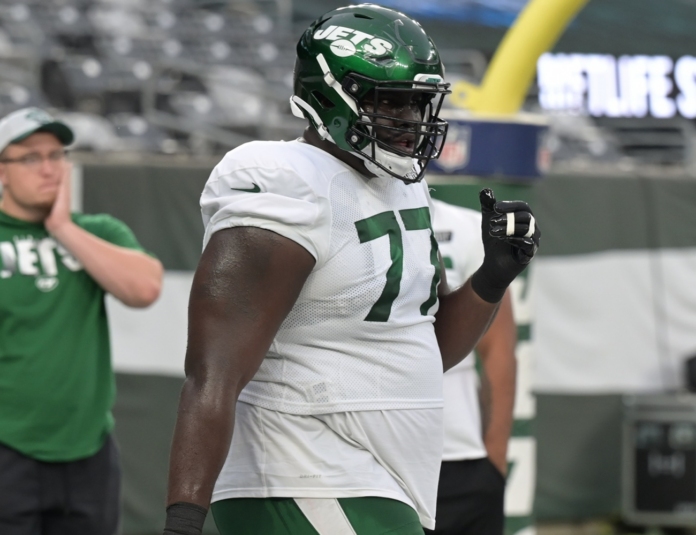 Content available exclusively for subscribers
Please subscribe now to unlock this article!
Remember what Robert Saleh said on Tuesday:
"[Mekhi Becton] just has to learn to trust his (right) knee and find a way to get comfortable with it."
Well, today Becton was missing from practice with knee soreness.
He is pictured above talking to some people after practice. I have no idea who these people are. Sorry I can't help with that.
But think about it. The player had his right knee repaired twice in the last two years. Do you think that knee is ever truly going to be the same? That isn't to say he can't have a terrific career after having his right knee repaired twice. He can, but as a young guy, who didn't suffer any serious injuries in the college or the NFL before his two knee issues the last two  years, he's going to have to get used to the knee perhaps not feeling totally normal, and the brace he's wearing on it.
Like NFL players and coaches have been saying for many years, there is a difference between being "hurt" and "injured."
Due ot the nature of the sport, nobody is truly 100 percent, once practice and the games start . . .
Zach Wilson still needs some work on his throwing mechanics. He threw a crossing route over the middle way over the head of 6-4 Irv Charles . . .
Linebacker is a position where obviously instincts are. So important. That is why somebody like Luke Kuechly was so good. Unsophisticated eyes and missteps can lead to big plays for the opposing offense.
While I know we have not seen him in an NFL game yet, preseason or regular season, rookie linebacker Zaire Barnes continues to flash very good instincts.
He picked off QB Tim Boyle today, and also had a terrific play against the the run, on a pitch left to Bam Knight, where the linebacker sliced through the traffic to potentially stop the runner for a loss (if there was tackling.)
I don't mean this be flippant, but just haven't seen a lot of linebacker picks the last couple of years in games or practice, so seeing this today, you just have to wonder if this guy could help fill a big need – better linebacker pass coverage . . .
Joe Tippmann had a snap that sailed over the head of a QB today.
Can people pump the breaks on this guy challening Connor McGovern for the Week 1 starting job?
Don't get the wrong idea. I think Tippmann is a heck of a center prospect, and should be very good in time, but why would they start him in Week 1 when they have McGovern? What is the rush? And do you think Rodgers wants to take snaps from a rookie center in Week 1, and the QB has a seat at the table when it comes to offensive personnel decisions. There is no doubt about it . . .
There was a play today where Rodgers was trying to change something about a play at the line, and somebody didn't seem to get it, so they went back in the huddle.
Rodgers is a maestro at the line, and makes a lot of changes, and it's going to take some of his new teammates a little time to get used to everything he likes to do . . .
The Jets flipped their tackles today, with Max Mitchell at left tackle and Billy Turner at right tackle.
While Mitchell can certainly fill-in at left tackle in a pinch, his better position is probably on the right side.
He got beat today by Jermaine Johnson with an inside move, and the defensive end got a QB pressure on Rodgers.
Not to make a big deal out of one play, but it just seems like Mitchell's best position is on the right side. It seems to fit his athletic skill set best . . .
July 26, 2023
Premium will return by 9:30 pm or sooner on Thursday.