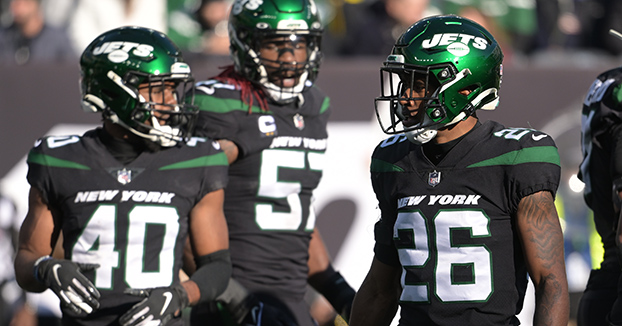 Content available exclusively for subscribers
Please subscribe now to unlock this article!
Robert Saleh said
the Jets expect the following players back from reserve/COVID-19 list – Joe Flacco, Kenny Yeboah, Michael Carter, Lamar Jackson, Jonathan Marshall, Tanzel Smart, Foley Fatukasi, Noah Dawkins and Hamsah Nasirildeen. They are also hopeful to get back Vyncint Smith, Laurent Duvernay-Tardif, Alijah Vera-Tucker, John Franklin-Myers, Ashytyn Davis and Hamilcar Rashed.
While the most important thing is the player's health, of course, and it's good news that some of these players were cleared, how many of these players will have a big impact on the game upon their returns?
That list could include Yeboah (since the Jets are thin at tight end), defensive linemen Fatukasi and Franklin Myers, along with offensive guards Vera-Tucker and Duvernay-Tardif.
Flacco was an unnecessary addition.
The rest of the players are green still proving to the football world what they can do . . .
Was doing a lot of film studying of the last game, and wrote down a lot of Jaguars numbers while doing the review, not knowing the names off-hand based on numbers. When I was done, I went to the Jaguars' website to marry up the number and names, and I couldn't find a lot of of them on their website roster.
I eventually stumbled up many of them on a list at the bottom of the page – on a lengthy COVID-19 list. Maybe coming to cold New Jersey contributed, but man, did they get hit after this game . . .
Speaking of the COVID-19 list, I asked a question I've wanted to ask Robert Saleh for some time and finally got around to it today. Yes, they have a bunch of guys on the COVID-19 list, but how many tested positive, but never had symptoms.
Saleh: I wish I had that answer for you. I would just be giving you a ballpark, I wouldn't be able to come close to an accurate number. But I do know if that they're clear, they're asymptomatic, based on the CDC rules. So, my assumption, and it should be, it's the only way could be, is that all of them that I gave you that are cleared today are clear of all symptoms. So, that's nine of them.
Leberfeld: But how many guys are on the list before they're cleared who are fine but they just tested positive.
Saleh: I don't have that answer for you right now. I'll get it to you a little bit later. I got to do some number crunching . . .
This week it's Tom Brady, perhaps the greatest QB of all time, against the NFL's 32-ranked defense, a unit that needs a lot of new pieces this off-season, and some strategic tweaks. Buckle up. This is going to be a herculean challenge for a defense that has struggled quite a bit this year stopping the pass. There has been quite a bit of praise for some of the Jets' young defensive backs on social media the last two weeks. Perhaps some are getting ahead of themselves. Let's see what they do in these next two games against Brady and Buffalo's Josh Allen, before we put them "in Canton" as Bill Parcells liked to say. These are two stiffer challenges then they faced the last two weeks against Miami's Tua Tagovailoa, who has a limited arm, and rookie Trevor Lawrence, who is still figuring things out . . .
Speaking of secondaries, the Buccaneers are decimated on the back end right now. Cornerbacks Sean Murphy-Bunting and Jamel Dean tested positive for COVID-19 today, and Richard Sherman is nursing an Achilles injury. Also safety Antoine Winfield has a foot ailment. Obviously, Murphy-Bunting and Dean didn't practice today, but neither did Sherman or Winfield.
They also could be without both edge-rushers Shaq Barrett (knee) and Jason Pierre-Paul (shoulder). Pierre-Paul has a very serious shoulder injury that might need surgery after the year, and he's trying to play through it with a harness, showing immense toughness, but wasn't able to play last week in Carolina . . .
Needing a few games to get his sea legs, following joining the Jets' active roster midseason after essentially missing a year and a half, we are starting to see why Saleh loved defensive end Ronnie Blair so much in San Francisco. Good football player.
December 29, 2021
Premium will return by 9:30 pm on Thursday.