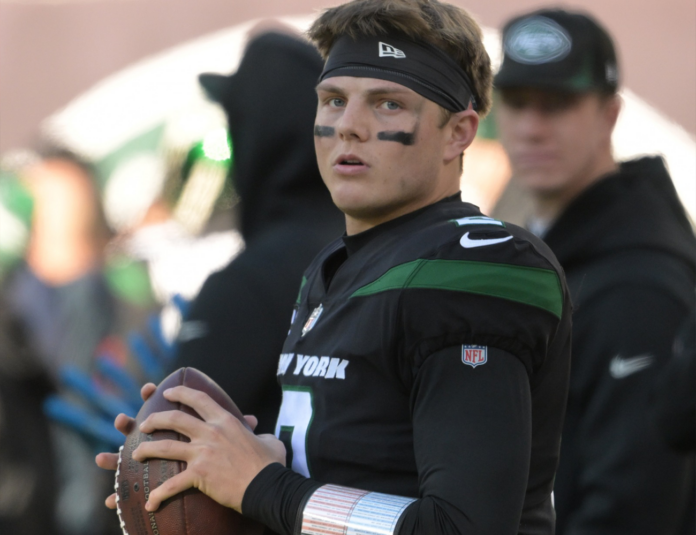 Content available exclusively for subscribers
Please subscribe now to unlock this article!
What is Robert Saleh looking for
from Zach Wilson in the Hall-of-Fame game . . .
"Just go out there, just play, do what he's been doing in practice, just show that confidence, the timing, and rhythm," Saleh said. "He's been performing really well in practice, and just take it to the field and do the best you can. No expectations with the stats or anything like that, but excited about the direction he's going."
We will start to truly see what direction he's going in this game, playing real football, as opposed to the touch football in practice. Actually, not even sure it's touch football for quarterbacks, since you aren't supposed to touch them at all.
Is he performing really well in practice?
Not sure I totally agree with that, but what do you expect the coach to say to the media – "He's been somewhat inconsistent out there."
I get the coachspeak part of the answer, but based on the players' accuracy in camp, which has been all over the map, like a low throw to TE Jeremy Ruckert on Tuesday on a very short pass that was incomplete, I'm not sure I can agree with the theory that he's been performing really well, but once again, I get the coachspeak.
He must show in these preseason games that he's taken his mechanics and footwork to another level. That was the mission in the offseason . . .
Another thing to keep an eye on in the Hall-of-Fame game is the safety position.
Not sure who is going to play, but this position is a little bit of a question mark for the Jets right now.
On Tuesday, Ashtyn Davis was getting some starting reps. Not sure he's getting serious consideration for a starting job at this point.  Tony Adams has as well, as has Adrian Amos. The other position is set with Jordan Whitehead, who is a hammer against the run and after receptions, but must improve his coverage a tad. Todd Bowles sometimes would take him out on obvious third-down passing situations in Tampa Bay due to some coverage inconsistencies, but the Jets disagreed with the Buccaneers' coach about this supposed shortcoming. Who is right here?
The Chuck Clark injury was devastating to the Jets. He could have been a leader and stabilizing force at safety. Now they have to cobble something together and these positions and hope to make it work.
Adams has flashed a little in camp, but keep something in mind about his pick of Aaron Rodgers the other day which got a lot of publicity. Rodgers was experimenting on a pass down the deep middle with Mecole Hardman, a player he's still trying to get on the same page with. Rodgers threw it down the deep middle, and it went way over the head of Hardman, and right into the hands of Adams who was in back of the receiver. I'm not going to call it an easy pick, because that would be disrespectful to the player, but it was kind of like a centerfielder in baseball catching a fly ball. It wasn't one of those situation where a defensive back jumped a route for a pick.
Adams certainly has potential, but there is no doubt the safety positions have to be making some coaches a little uneasy right now, as they try to figure out how to make this work, post-Clark. Amos is still learning the defense and trying to get on the same page with his new teammates, after being signed in June.
August 2, 2023
Premium will return by 11:30 pm on Thursday.